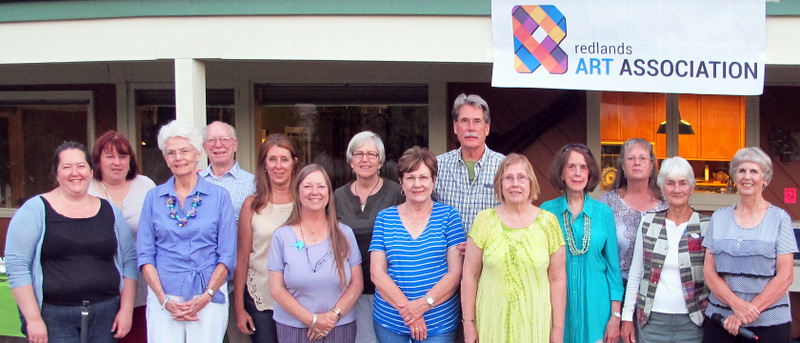 11 Jun

RAA News June/July 2014
Annual Meeting and Potluck Dinner
The RAA's 2014 Annual Member Meeting and Potluck Dinner was held at the home of Larry Harvill and Evelyn Ifft on Tuesday, June 3rd. Good company, delicious food and delightful conversations were enjoyed by all.
Judith Sparkhawk shared some pictures of the festivities with us: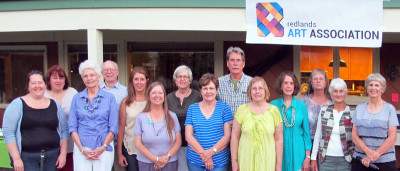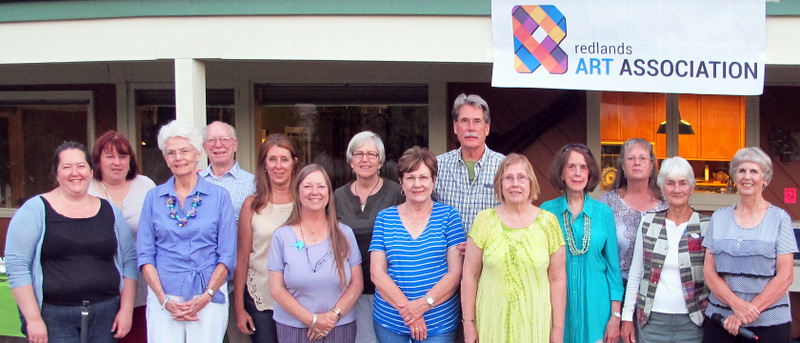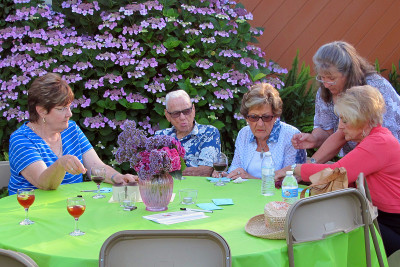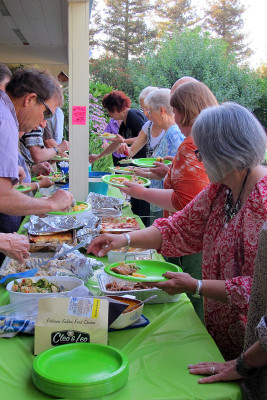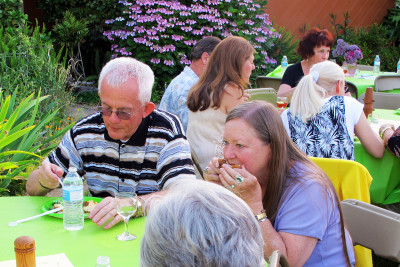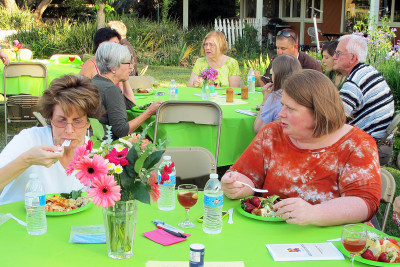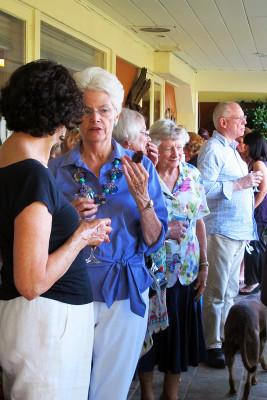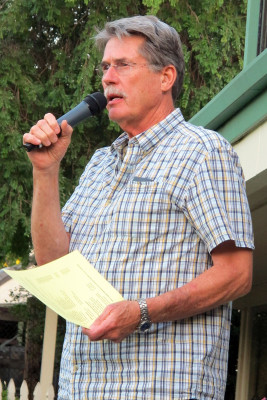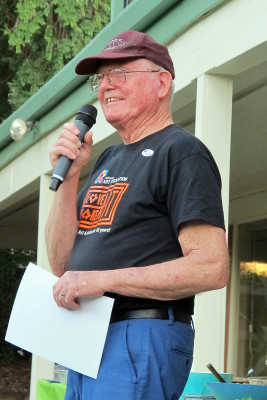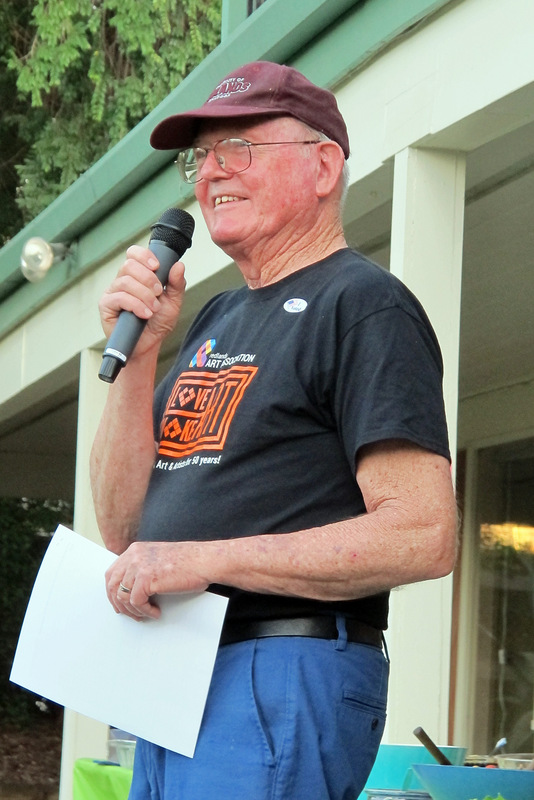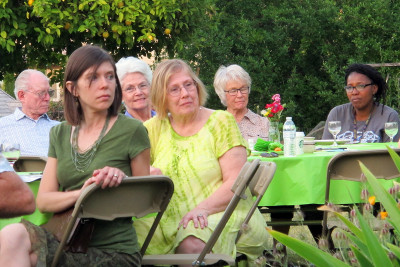 Larry Harvill was master of ceremonies and introduced the operating committee members. A complete list of the operating committee and Board of Directors can be found on the website under the "About" tab.
Candy Glendening, Website/Newsletter
Website Updated!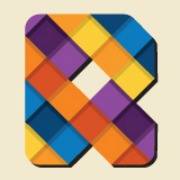 Our website has been updated to reflect our new branding!
Last Fall, graphic design classes in three local colleges were invited to create a new 'Identity Package' for RAA. Over 30 college students and their professors participated in the effort. In December, the four best designs were presented to RAA's member juror team; experienced graphic artists Grace Fermier, Jan Harvey and Karen Mahmoudi. Their unanimous choice was the package created by a team of senior graphic design students from the Art Institute in San Bernardino. The design is colorful and versatile and communicates what we do here at the art center.
We've been implementing this branding with new signs and paint on the outside of the gallery, paper collateral is being updated, our social media sites have made the switch and now the website also reflects this bold new look with a fresh outlook on what it means to be a member of the RAA; Creativity starts here!
As you're browsing the new site, if things look funky or run really slow, you should clear your browser cache, here's how (if you've never done this before, you're in for a treat, everything will run faster!). I hope you find the site useful and inspirational.
Candy Glendening, Website Designer and Textile Artist
Pics from Charlie Ciali Program & Workshop
People who attended Charlie Ciali's Monotype Program and Workshop, on May 27th & May 31st, enjoyed, learned and experienced so much.   Charlie is truly an outstanding artist, instructor and individual!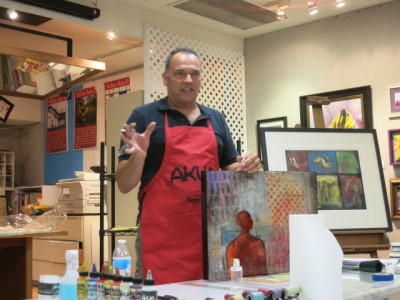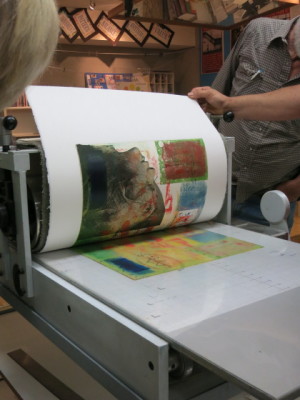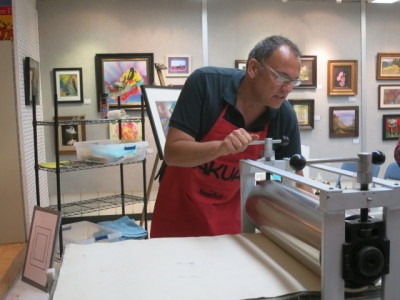 Submitted by Lori Powell
Upcoming Workshops
Creative Clay Teapots w/ Marijke Terwisscha
Always a fantastical, creative experience!  For more info check out the summer schedule in the RAA Gallery or on the RAA website. Picture: marijke
Two Saturdays:
June 14; 9 am -4 pm and
June 21; 10 am – 3pm
Workshop Fee:  RAA members $90 / non-members $95 with a $20 materials and raku firing fee paid to the instructor on the first class.  No experience necessary!
Twisted Toys w/ Richard Freund
Create unbelievably imaginative toys, while learning methods of joining all sorts of objects and unusual acrylic painting methods.
Saturday, June 28; 9:30 am – 5:30 pm
Workshop Fee:  RAA members $85 / non-members $95
Oil Painting w/ Chick Curtis
Informative instruction that is individualized and inspirational.
Sundays, June 22, 29, July 6, 13 & 20; 10:00 – 1:00 pm
Class Fee:  RAA members $70 / non-members $75
Watercolor w/ Ed Sotello
Integrates creativity with instruction of basic skills, design and composition.
Thursdays, July 3,10, 17, 24 & 31; 7 – 9:00 pm
Class Fee:  RAA members $70 / non-members $75
Sign up by calling or visiting the RAA Gallery.
Submitted by Lori Powell
Fall Artist's Way Class Forming
Sign-ups are being taken now for a new Artist's Way Workshop.  This popular class is based on the bestselling book, The Artist's Way, by Julia Cameron.  It is designed to unblock your creativity and to help in setting and reaching creative goals.  It is a fun and exciting class with a great group dynamic, and is led by successful photographer and  workshop leader, Judith Sparhawk.
The class begins with a free no-obligation Orientation on Wednesday, September 10, 2014 at 7:00 p.m.  This is a chance to learn more about this program, ask questions, and find out if it is for you.  The workshop will then begin the following week on Wednesday, September 17th , from 7:00 to 9:00 p.m., and will continue weekly for 12 weeks.  Don't miss this great experience.
Come into the gallery to sign up, or come to the orientation.  For more information, contact Judith Sparhawk at 909 793-1876 or email jsparhawk746@yahoo.com.
Downtown Redlands Artwalk June 15th
Join us on Sunday, June 15th from 12:00 to 6:00 pm when we participate in the Downtown Redlands Artwalk.  The Redlands Art Association is excited to be able to provide free children's art activities to the community as part of the artwalk events!  Stop by the RAA gallery to make a clay animal sculpture, collage a small journal or watercolor a Father's Day card for Dad!
Local artists will be exhibiting their works in the alleys and sidewalks of downtown Redlands accompanied by performances from local bands and solo artists. Swing by Ed Hales Park to feast on the crab and crawfish boil! Grab a beer or a glass of wine by Ritual Brewery, Hangar 24 or State Street Winery in the beer and wine garden adjacent to the park.
For more information on the artists, musicans and local businesses that will be participating in the Downtown Redlands Artwalk, visit DTR Artwalk on Facebook (www.facebook.com/dtrartwalk).
Art Venues include:
Augie's Coffee House
Alley Gallery
OneLove Deluxe
Parliament Chocolate
The Vault Martini Bar
A Shop Called Quest
JD Myers
Redlands Art Association
Ozel Jewelers
The Mitten Building
Greater Good Coffee Company
Katz Alley
Citrus Dental Plaza
STB Gallery
The Lounge 22
5th Street Alley (next to oscars)
City Plaza walk way
Wilson's Classic
Fleur De Lis
Stone Wheel Olive Oil Co.
"Let Love Grow" Raffle Fundraiser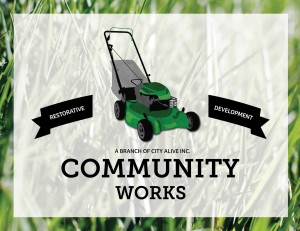 City Alive Inc. is excited to present their first Spring Campaign to fight poverty in Redlands, CA. "Let Love Grow" is a raffle fundraiser offering tickets for sale at $25 each for the chance to win a grand prize of a year of free lawn care for a Yucaipa, Mentone or Redlands resident provided by Community Works, a program of City Alive Inc. Additional prizes include 2, 1 month of free lawn care services and a dozen "Let Love Grow" t-shirts designed by local small business Art Renew. Tickets can be purchased on-line at www.cityaliveinc.org. Tickets will be available starting May 22nd and closing on June 28th. Winners will be announced on June 30th on-line at www.cityaliveinc.org and with a follow-up phone call or email. Additional t-shirts will be sold post-raffle at www.artrenew.com with $5 of your purchase being donated to Community Works.
Community Works is one program developed by Verhoef to realize City Alive's mission. On the outside Community Works looks like another average lawn care service but at its heart Community Works is an employment development program hiring individuals who are unable to personally sustain stable housing and who have been unable to find work due to a lack of job history. Interns work for the lawn care program while taking part in life-coaching and organized mentoring. After 6 months they will have developed a savings account, stable housing, and an updated resume which they have used to be hired by another employer. Those participating with the Community Works program are a part of an accountable community, know the future they are striving for, and have a record of a drug and alcohol free lifestyle.
City Alive Inc. was established in 2011 with a mission to inspire, bridge, educate, and coach for the alleviation of poverty. Director Joel R. Verhoef established this non-profit with the belief that "every person has value, talent, and dreams." Verhoef stated, "Everyone, especially those who for one reason or other have been convinced their value, talents, and dreams are "less than" those of another, is an asset just waiting to contribute their gifts to make the place where they live better for all. City Alive develops asset-based strategies to uncover the treasures that are hidden in our city."
Funds raised from the "Let Love Grow" campaign will go to support Community Works' general operating needs such as payroll, insurance, equipment needs and repairs. Will you join us to "Let Love Grow" in Redlands?
Submitted by Melanie Papp, City Alive Inc. Communications Director
909.709.1661