09 Mar

RAA News March 2011
Time to Renew…Time to Renew!
This "new" year is just zipping by.  It is already March, and time for a reminder about your RAA membership.  If you haven't yet renewed for 2011, there are several ways you can do this. You can go to our website and pull up the membership form, fill it out and send it in; or come into the gallery to fill out the form and pay on the spot; or pick up the form and send it in with your payment.  It's $40 for an individual membership, which is a real bargain for the benefits:  hanging your art in the gallery, having free entrance to monthly meetings, getting discounted fees for classes and workshops,and for the opportunity to support the arts in our community.  So don't forget,  it's TIME TO RENEW!
Judith Sparhawk
42nd Annual Multi Media Mini Show Results
Originality, Quality, Variety in Mini Art!
The 42nd Annual Multi-Media Mini Show, sponsored by the Redlands Art Association, is now open through April 1 at the downtown Gallery and Art Center, 215 E. State Street, Redlands. 127 artists submitted 284 pieces of art but only 125 pieces were chosen to show.
Jurist Michael Jacques, Associate Professor at the Laguna College of Art and Design selected the art for the exhibit. Unlike any other jurist RAA has used, Jacques offered a mini critique of each piece he did not chose, in the hopes that the artists will continue to improve and keep entering these art competitions.
Jacques awarded first and third prizes to Jeff Owens from Redlands, second prize to Tony Radcliffe, also of Redlands.
Juror's Choice Awards went to Ann Bingham-Freeman and Tony Radcliffe.
Excellence Awards went to JoAnn Formia and Adam Carde Sancen.
Kari Harvey took the Past Presidents Award.
Gift Certificates donated by Aaron Brothers and Wilson's Art & Frame were awarded to Janet Edwards and John Brownfield, respectfully.
Products donated by Bud Rickert's Art Supply and Canson, Inc. were awarded to Kari Harvey and Karen Clarke.
Honorable Mentions were given to Joan Coffey, Maxine Kenny, Patty Roth, Diane Sidor, Dan Soury, Judith Sparhawk, Colleen Sparlin, Dean Spencer, and Vlad Voytilla.
Other Redlands Art Association members juried into the show are: Gail Brownfield, Susana Beck, William Breer, Leah Balestieri, Dolores Carrasco, Helen Carson, Karen Coates, Chick Curtis, Peggy Dornbach, Sandy Davies, Adeola Davies-Aieloja, Susan Evans, Fred Edwards, Julie Evans, Kent Fogleman, Patricia Rose Ford, Richard Freund, Candy Glendening, Mary Grinyer, Jan Harvey, Antionette Hanson, Patty Hayden, Evelyn Ifft, Vivian Kassel, Doug Ketchum, Rich Lopez, Sheila LeBlanc, Cindy Jones Lantier, Karen Mahmoudi, Caroline McAllister, Diana McLaughlin, Sandra Blake Meichsner, Joanna Mersereau, Ginger Pena, Kristina Pamias, Nancy Rascon, Sharon Rachal, David Rudolph, Robert Sevick, Joe Sidor, Harriet Singer, Edward Sotello, Roland Wissler, and Sally Wirth.
Non-members chosen are Marge Beasley, Dan Coakley, Susan De'Armond, Rudy Estanque, Gloria Folger-Mancini, Patricia Franks, JoAnn Formia, Barbara Garcia, Jean Hearst, Jill Jones, Scott Krohne, Zora Lee, Shirley Manning, Michael Mazgai, R. Mike Nichols, Robin Mount, Cinda Olivas, Setsuko Okubo, ada m. passaro, Alan Remele, Nancy Shiershke, Alan Sponholz, Marilyn Taub, and Jan Wright.
The Mini Show is unique to Redlands . What makes it different from all other judged exhibits is the limitation of the art piece to 14 ½ " including base or frame and that all media is allowed for the show. For example, artists submitted photography, digital (computer) work, fiber art, drawings, glass, sculptures in wood- stone- and metal, as well as the traditional fine arts. Naturally, its success has spawned similar shows, however, the MMM Show is still the only one of this scale in Southern California.
The Multi Media Mini Show Grand Opening is Friday, March 11 from 5 to 8 pm. The public is welcome to view the art and meet the artists. The show runs through April 1.

Sunday, March 13 from 1 to 3 PM is the Artist's Award Ceremony. Jacques will be on hand to deliver the awards to the artists.
For further information, please visit the Redlands Art Association at 215 E. State St., Redlands or call, 909-792-8435. Gallery hours are: Mon-Sat, 10 am to 5 pm; Thursday, 10 am to 8 pm.
Upcoming Excursion: A Private Tour of the Sam Maloof Compound
Margaret Spiess, has secured for RAA , particularly the watercolor group, a private excursion of the Sam Maloof  compound on  May 25th, Wednesday. This is a three in one bargain. The 5.5 acre grounds will be in bloom, planted to display four different natural less water gardens. Margaret will give us a tour of the house museum with numerous hand made wood furniture pieces by Sam from over the years. Each room is packed with original art from modern to ethnic collected over the years by Afreda and Sam. Lastly, we will view
a gallery display titled "3 paths to Expression".  The three women artists  include:
Tina Min (found sculpture and paintings) who writes her "art is made to make sense of other people, histories, and our improbable existence. I tell stories",
Georgette Unis a painter sculptor, and mixed media artist who writes her "paintings evolved from images of trees reminiscent of meditations; they are explorations of imagery",
Lan-Chiann Wu graduated from the Chinese Culture University, Taipei, Taiwan. She writes " I paint with conviction that there are universal humanistic values to life and principles such as achievement and benevolence. Mankind's universal struggle with life is also a theme in my work. I use natural materials I prepare myself–ink on paper for my visual poems."
All three artists have web sites that you may check to view their style of art.
to sign up contact Margaret Spiess at (909) 867-9152 or email mtnperceptions@verizon.net with RAA in the heading. We will leave
the parking lot across from the post office at 9:00 am. Your expense: Admission $15 adult, bring a packed lunch.
Featured Artist Corner
The Featured Artist is a vibrant area for the Redlands Art Association Gallery. It provides excitement, exposure for your art work, brings family, clients and friends into the gallery and it is good for us all. I never cease to be amazed what you create and we need to see it.
The Redlands Art Association encourages members to show your stuff and become our Featured Artist. As the Featured Artist you choose a group of work that represents what you do and display it in the area provided, including the front panel that highlights your work. The display time is 3 weeks your work has meaningful exposure.
I encourage all artists to call or email me to save a date for the remainder of 2011 – we have spaces available.
Make a date for 2011, show us your stuff, it is a privilege and an honor for all who visit.
Email: lbellville2001@yahoo.com
Telephone: 909 792.9900
Lynne Bellville – Featured Artist coordinator
Ann Bingham-Freeman at The University of Redlands Alumni House
"16 Figures and a Landscape"
The reception will be on Friday, March 18th from 4 to 7 pm
The show will be up from Feb. 25th to April 30th!
U of R Alumni House
625 Grove St.
Redlands, CA 92373
(877) 867-2586
Viewing Hours  8-5  Mon.-Fri.
To purchase art please call Ann at (909) 797-6276
bingfreestudio@gmail.com
www.bingfreestudio.com
Teen Mania Update
The Teens are glad to share some of there art done most recently at the RAA. In the Teen Mania class last done, the teens studied about Native American art and designs. Here are some photos/art, done by Kayla (left), and Autumn (right).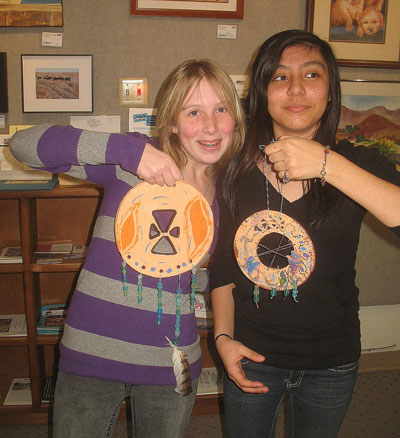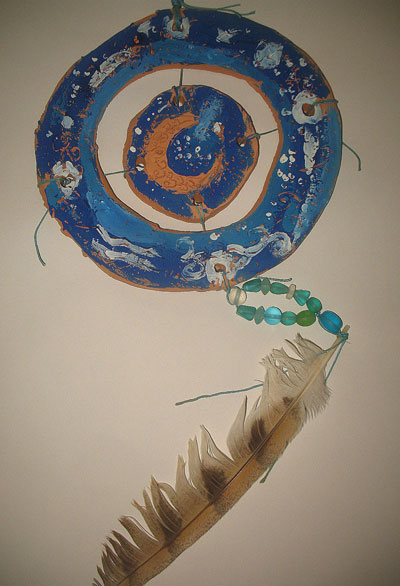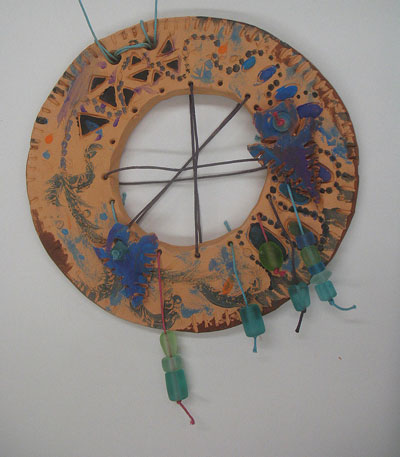 Students made their own designs for their dream catchers, carefully making their designs in clay. The teens used glass beads and natural Indian inspired colors, for their designs. Teens meet Monday nights, 5:45pm-7:15pm.A special invite guest– Judith Sparhawk, came by to meet the teens and share some of her own art, of fabulous photos done of Native American Indians! The teens were very grateful and glad to learn more.
submitted by Ms. Gloria Steinweg