12 Mar

RAA News March 2012
CHANGE IN TAKE IN DATE FOR APRIL
Take-in for April's show will be THURSDAY April 27. We will hang on Friday, and thus be ready to celebrate Vintage Redlands on Friday evening.
Pat Meeker
"Welcome to Redlands" Art Show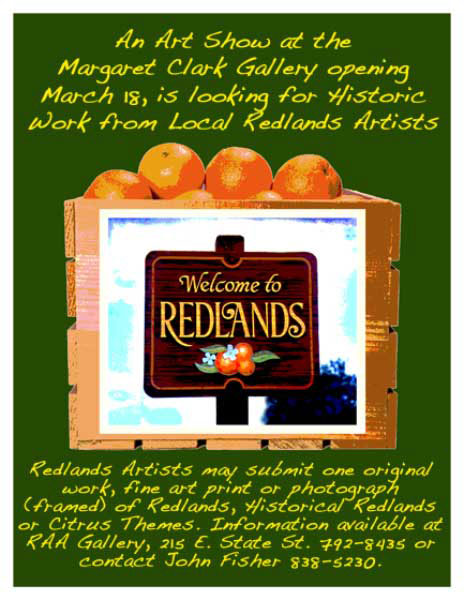 Margaret Clark Gallery, Redlands High School, 840 E. Citrus Ave.
 Opening: March 18, 1:00-4:00
Also Open: March 24, 25, 31, April 1, 1:00-4:00 Or, by appointment. Call John Fisher, 909 838 5230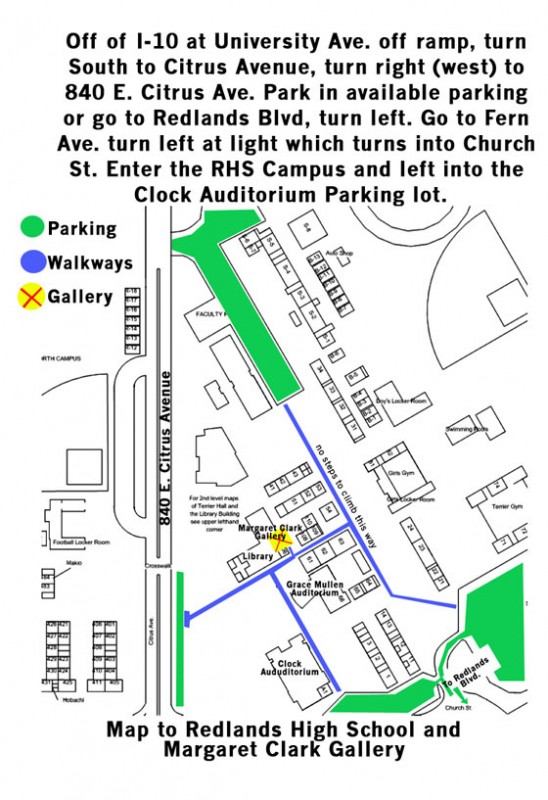 Fellow RAA Members, the take in for the "Welcome to Redlands" Show is almost complete. If you know of any "known" Redlands Artist (or unknown) that have used a "Redlands" theme in their work, would you invite them to show one of their pieces of art work. Not too big. Bring your own stand up easel if you have one. The show will be big enough to fill the library too. Be sure to join in on the festivities.
Take in is March 12-14. Deliver the work to the Margaret Clark Gallery, in the Library building just east of Grace Mullen Aud. (Do not take work to the RAA Gallery for this show!)
And if you invite an artist to show, and they are retired, could you please "host" them to the show since it requires some "navigation" to walk to the Gallery from the parking lot. We're not all "high-school kids" anymore. There are maps in the RAA Gallery or in this article. Download the Artist info sheet by clicking on this link.
Email John Fisher for more info: jd.fish@verizon.net
The Eighth Annual OPEN AIR ART for OPEN SPACE SHOW
"Churches of Redlands"   Show Dates: June 4-21, 2012
All Plein Air artists are invited to paint on location at the beautiful and historic churches of Redlands, and to enter the resulting artworks for the Show-Within-A-Show at the Redlands Art Association gallery.  Take-in for artworks is on Saturday, June 2 from 12-4. The reception and awards ceremony will be held in conjunction with Arts Walk at the RAA gallery on Friday, June 15 from 5-7. Penny McElroy will judge the show for cash prizes: $150 for First Place, $100 for Second, $50 for Third as well as Honorable Mention ribbons.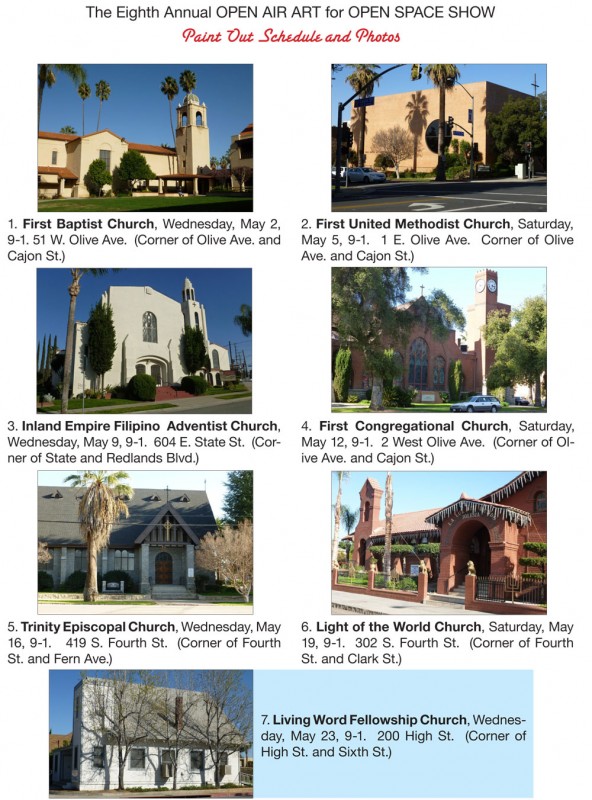 Ginger Pena & Evelyn Ifft
Flower Power Show at RAA Gallery show
Oohh.. Aahh! Like fireworks, the beauty of the flower gets rave reviews from onlookers. Redlands Art Association's Gallery and Art Center will burst with floral art in their ART ALIVE in Redlands! exhibit during the month of March/April. Florists will be invited to choose a piece of art from the exhibit and create their art to coordinate or contrast the piece for display at RAA's Open House, April 21 & 22. "What's more natural than flowers and art?", asks Sandy Davies, exhibit coordinator. "The floral creations of past have been beautiful, stunning, and sometimes whimsical." Also on display will be art for the garden and patio in ceramics, glass, wood and metal.
ART ALIVE in Redlands! is in conjunction with the Redlands Horticultural and Improvement Society's Garden Tour the weekend of April 21 & 22. The Gallery will have special hours as a stop on the tour: Saturday, 10am to 6 pm and Sunday, 11 am to 5pm.
Artist take-in for the Flower Show is Friday, March 23. For more information, call  
909-792-8435
.
Sandy Davies
News from MCAEEF
At the latest MCAEEF Meeting presided over by Jerry Meeker, a letter  was sent by Sherry Edwards expressing appreciation for the education grant to Lugonia and Franklin Elementary Schools. The grant was for grades K-5, and the children experienced art media such as watercolors, oil pastels and collage while learning the color wheel, mixing colors and art terms such as perspective, monochrome, polychrome and so forth.  Victoria Elementary was given a similar grant so the children there could have new art experiences that expand their knowledge of the arts.
Ed Sotello
The Art of Sharing
The Redlands Art Association has been providing a gallery for local artists and classes for upcoming artists of all ages since 1964. Our mission is to encourage and support the visual arts in the city of Redlands and neighboring communities. While our focas is centered on our gallery, we are always looking for ways to expand our presence in our community.
Recently, several of our artists' works were highlighted in the 2011 Annual Financial Report for the San Bernardino County Employees Retirement Association. Those artists included Judith Sparhawk, Kathleen Bryan, Richard Freund and Janet Edwards. Their work is prominently featured in the 115 page financial document.
We continue to look for opportunities to share our passion for the visual arts in our community. If you have ideas, suggestions or would like to feature our artists in your publications, please contact Randy Hill at the RAA (909) 792-8435.
Randy Hill
Agency Seeks Volunteer Instructor for 16-18 Year Olds
For Saturday, May 19, 2012
California Youth Connection (CYC) is a non-profit organization that develops leaders who empower each other and their communities to transform the foster care system through legislative and policy change.  CYC was founded by current and former foster youth in 1988 who believed in giving youth a voice in the decisions that affected their lives.
Every year CYC in collaboration with, San Bernardino County Children and Family Services, San Bernardino County Foster Youth Services, San Bernardino County Children and Family Services Independent Living Program, host the Foster Youth Summit for 150 current foster youth in San Bernardino County.  The summits main focus is to provide a space where youth can make recommendations for policy and practice change.
This year we want to provide these young adults with the opportunity to express their experiences or recommendations through creative expression.  In order to do this we are in need of your assistance. We are looking for volunteers such as yourself or your students who have experience in the following art forms; Visual Arts such as; sketching, drawing, pastel or dry oil painting and Performing Arts such as; poetry, spoken word, and theater.  You or your students will be teaching a small group of about 30 youth to express themselves in the chosen art form.  The last hour of the summit is dedicated to present both the recommendations and the creative art work to various members of the community including San Bernardino County Children and Family Services.
This year the Summit will be held on May 19, 2012 from 10am to 5:30pm.  The art workshop will be held from 1:20pm to 2:55pm at a location to be determined . If you or one of your students would like to assist with this event or have any questions please contact Tatianna Byrd at (909) 891-3559 or email at Tatianna.Byrd@hss.sbcounty.gov
Tatianna Byrd
Peer and Family Assistant of the Independent Living Program 
County of San Bernardino Children and Family Services
"Celebration of Arts and Architecture"
Join the Art Alliance, a Supporting Group of the Riverside Art Museum, for a day and evening long "Celebration of Arts and Architecture" on Saturday, April 28, 2012.   Start the day with a self-guided tour of the artist studios of Helen Bell, Charles Bibbs, Tiffany Brooks, Judy Davies, Paulden Evans, Denise Kraemer, and Martin Tobias. Then put on your best cocktail or 1920's attire to wine, dine, and dance the night away at RAM from 7:00 PM to 11:00 PM.  Each of our studio tour artists are donating a piece to be auctioned off during the Evening Gala.  Tickets for the Studio Tour are $35, $100 for the Evening Gala, or $125 for a combined ticket for both the Studio Tour and the Evening Gala.
Visit www.riversideartmuseum.org/RAMcelebrate for more information and to purchase tickets.  Funds raised will benefit RAM's continuing mission to put on thought-provoking exhibits (come see "You Are Breathing In It!" in July), offer high-level adult art workshops (we have workshops lined up with nationally-renowned instructors in Photography, Plein Air, Watercolor, and more) and youth art classes for children of all stripes to flex their creative muscles (check out our Special Art Class for Kids with Autism).
Kathleen Bocian and Helen Bell