12 Mar

RAA News March 2013
RAA's 44th Annual Multi Media Mini Show
The 44th Annual Multi-Media Mini Show, hosted by the Redlands Art Association, is on display at the Gallery and Art Center, downtown, 215 E. State St, Redlands.
The Multi Media Mini Show (MMM) is unique to Redlands.  What makes it different is, 1) the limitation of the art piece to 14.5″ including base or frame and 2) that all media is accepted.  For example, artists can submit photography, digital (computer) work, fiber art, drawings, glass, sculptures in wood- stone- and metal, as well as the traditional fine arts.  The MMM Show is still the only one of this scale in Southern California.
The MMM Show is open to all California artists, which brings in art from Murrieta to Pasadena to 29 Palms.  84 artists submitted 230 pieces ~ but only 145 pieces were chosen to show.  Our jurist was Robin St. Louis from Palm Desert.
The artists competed for over $2000 in cash prizes and gift certificates.
First Place, $400, was presented to r. mike nichols from Riverside;
Second Place, $300, to Tony Radcliffe, Redlands;
Third Place, $200, to Chick Curtis, Riverside;
Juror's Choice awards, $ 50 each, to Emily Corbin and Caroline McAllister;
Excellence Awards, $ 50 each,  to John Mayer and Janet Edwards.
Past President's Award, $100, given by past RAA presidents to Elizabeth Carr;
the Joan Wiley Memorial Watercolor $ 100 Award to Chris Young;
Watercolor West's Best in Watercolor to Karen Clark.
Four Honorable Mentions were awarded to Joanna Mersereau, Judith Sparhawk, Jeff Owens and Martha Cowan.
Tony Radcliffe and Won Madeline Koh won the Gift Certificates from Jack Richeson School of Art & Gallery,
Emily Corbin and Elizabeth Carr won gift certificates from Guerrilla Painter,
 Martha Cowan the certificate from Wilson's Frame-up,
Judith Sparhawk the certificate from Aaron Brothers and
Brandon Evans won the gift products from Bud Rickert's Art Supply.
Purchase Award Patrons pledged in advance to purchase art from the show.  Patrons had a private show to select their art. Purchase Award Patrons were:
Harriet Talbot who purchased art from Andrea Beechko and Emily Corbin;
Carolyn McHugh purchased art from Ruth Wood and Sally Wirth;
Sandy Davies purchased an oil from Betty Francis,
the Redlands Community Hospital Foundation bought a piece from Martha Cowan;
David and Marjorie Olson purchased pieces from r. mike nichols and David Taylor, and
Susan Sequeria purchased the watercolor by Joanna Mersereau.
Redlands Art Association member artists juried into the show are: Leah Balestieri, Andrea Beechko, William Breer, Gail Brownfield, John Brownfield, Elizabeth Carr, Helen Carson, Emily Corbin, Liz Coviello, Martha Cowan, Chick Curtis, Sandy Davies, Muriel Dolemieux, Janet Edwards, Tiffany Engeman, David Englebretson, Brandon Evans, Julie Evans, John Fisher, Betty Francis, Richard Freund, Tom Gillett, Jan Harvey, Patty Hayden, Evelyn Ifft, Won Madeline Koh, David Lawrence, Sheila LeBlanc, Michael LeBlanc, John Mayer, Caroline McAllister, Pat Meeker, Joanna Mersereau, Lynn Mudd, Joanne Ohnemus, Tomi Olson, Marjorie Olson, Jeff Owens, Ginger Pena, Sharon Rachal, Tony Radcliffe, Linda Richards, Maria Rossi, Lenore Roth, David Rudolph, Michelle Schoenmann, Harriet Singer, Dorie Solomon, Edward Sotello, Dan Soury, Judith Sparhawk, David Taylor, Marijke Terwisscha, Liam Van Loon, Vlad Voytilla, Sally Wirth, Roland Wissler, and Ruth Wood.
Other exhibiting artists are: Lyla Bendsen, Ann Binghamfreeman, Karen Clark, Pamela Downs, Jo Ann Formia, Barbara Garcia, Michiko Ikeda, Maxine Kenny, Michael Mazgai, Marna McCormick, Virginia Melton, r. mike nichols, Betty Pilley, Laura Ryan, Dean Spencer, Joyce Thomas, Jessica Weber and Chris Young.
The Multi-Media Mini Show will be in the Gallery through March 21.  Gallery hours are Monday through Saturday 10 am to 5 pm.  The show is open to the public.
Sandy Davies
Janet Edwards Show in Mendocino
Show runs through March at the Highlight Gallery
 Submitted by Janet Edwards
Yarn Bombing at the RAA
If you've been to the gallery in the past month or so, you've seen the "Yarn Bomb" installation, that's the work of Marciella Powers: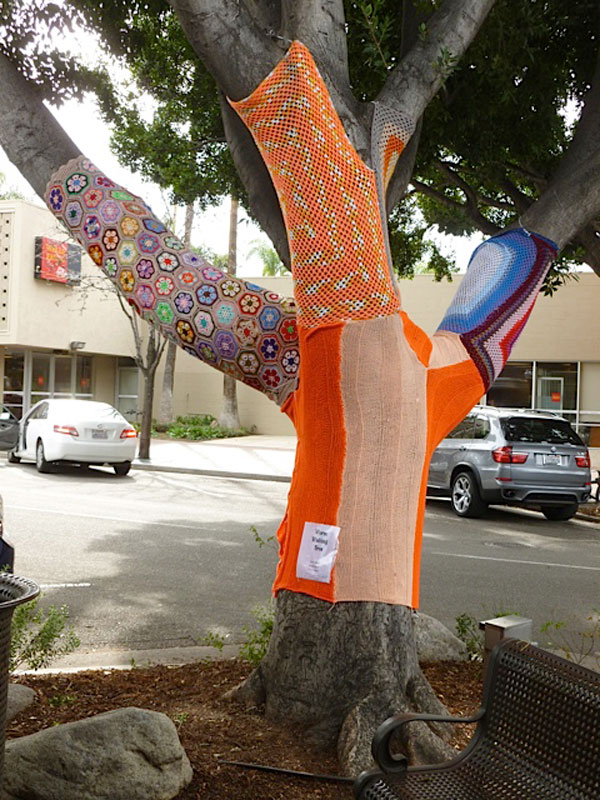 It brings a smile to people's faces!
Evelyn Ifft
"Off the Shelf" by Joanna Mersereau, A.W.S.
This column will review books in the RAA library that I consider valuable art tools. In reading them I found my own imagination was stimulated. I hope it does the same for you.
"Abstraction in Art and Nature" by Nathan Cabot Hale 759.06 Ha1
This review covers the second half of this in-depth book. Hales discusses patterns in all forms: cosmic (galaxies), weather and atmosphere, water, earth and plants. He rounds out the discussion with living vertebrate creatures such as birds, fish and humans. He shows how the use of a grid can transform these subjects into fascinating cartoonish figures.
When he gets to space, proportion, scale and perspective, I paid attention. Many of these theories I have used without understanding the underlying principles (horizon line, vanishing points, foreshortening). While I think these principles have a place in an artist's vocabulary and expertise, I believe they are not necessary to be understood to make an interesting painting. In fact, the reverse: Why not tweak them as Cezanne and Picasso did?
Hales' discussion of light and dark is valuable, especially when talking about daylight, nightlight, firelight and electric light. In my opinion, that's when an artist becomes a master at expressing the emotional quality of a scene. (Georges de la Tour's firelight paintings.)
Important tips for drama are introduced in the text about shade and shadows and how they are created by the direction of light on different planes. I found the illustrations on lighting the scene—from front, back or overhead—to be particularly exciting. Each lighting carried a different emotion. By understanding these principles we can choose how to represent the scene without having to see it in real life!
I recommend you bypass the section on color. Each artist can obey or ignore the rules. Hales tells you the reason for the rules about color. I say, "Have fun and do your own thing."
First published in 1972, "Abstraction in Art and Nature" is still a book to be digested slowly and with thought.