07 Nov

RAA News November 2010
Special Christmas Tree Ornament Take-In – November 19
A special take-in FOR CHRISTMAS TREE ORNAMENTS ONLY, will be on Friday, November 19, during regular gallery hours (10-5). Members may bring in up to ten ornaments to hang on our tree, to sell during the holiday season – through the December show (no show fee). All items must be clearly marked with price and artist name. E-mail questions to Tia Shira at vicepresident@redlandartassociation.org.
Update on 2011 Plein Air Show
Ginger Pena and Evelyn Ifft will be c0-chairing the RAA/RC Plein Air Show in Spring 2011.  We haven't worked out the details which will come later, as to the theme this year.  Tentatively we will be featuring Redlands' Historic Homes, a list will be provided.
Redlands Conservancy with Sherli Leonard will be helping with the show and the reception.  It will be a Show-Within-A-Show at RAA the week of April 11-17, 2011.  Take-in will be on Saturday, April 9, the reception will be on Saturday, April 16 to be coordinated with the the Flower Show Reception (time to be announced).  Take-down/pickup will be 4-5 pm on Sunday, April 17, pick-up also on Monday, April 18 during regular hours (sign out at the desk).  We hope for another good turn out then, more details after the New Year.
Submitted by Evelyn Ifft
Mersereau in Zornes' Book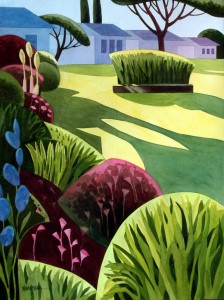 Joanna Mersereau, longtime student and friend of Milford Zornes, will be in an exhibit of collectors' paintings and in a book entitled "The Art of Milford Zornes: Friendships & Inspiration." Joanna will have two pages in the book, one with the image of her painting and the other, a tale of  her "almost murder" of Zornes.
Highlights:
Opening reception with artists present, December 12, 2010 from 2 to 4 p.m.
A birthday celebration, January 23, 2011 from 2 to 4 p.m.
Closing reception, February 20, 2011 from 2 to 4 p.m.
All events will be held at the CCAA Museum of Art located within the historic J. Filippi winery, 12467 Baseline Road., Rancho Cucamonga, CA.
For further information: www.ccaamuseum.org or call (909)463-3733.
The museum is open Friday through Sunday, noon to 5 p.m.
RAA Library Announcement
Yes, I know the Library has been neglected but I now can at least find it again.  There are so many classes going especially in the summer that so much is stored in front of the shelves that I had to wait until later.  We have lots of great books there, many are misfiled but I will try to sort them out.  There are lots of new books I need to process as well as culling out old, torn or uninteresting books.  Those I will put on the top shelf nearest the kitchen for the great sum of $1 per book, payable at the desk.  After 2 weeks I will take the leftovers to the Smiley Public Library.
Now I need you all to check your studio shelves and bring back the books you took home…last month? Last year? Doesn't matter, just bring them in for others to be able to use. This works on the the honor system! Many thanks!
Submitted by Evelyn Ifft
Should the Arts be Part of Education Today?
"Art classes teach students not only art techniques but also, thinking processes and ways to express themselves."

Natalie Lui, 11th grade, RHS, winner essay contest on Public Schools, the Greatest Freedom.

"Art is an essential of our humanness. Without it, we are less than we can be."

George Riday, past president of Redlands Art Association, and Cultural Arts Commission

"Without the arts, children cannot achieve their full potential."

J. Paul Getty Trust, from The Power of Arts to Transform Education.
Does American culture today model the behavior that we want all children to achieve their full potential? I'm looking into establishing a "forum," inviting any and all participants, for the purpose of opening dialogue on concepts concerning Art as an appropriate community awareness actuation of intent: the intent to preserve the arts as a viable experience in the education of our youth.
I'll try to pick a time, or times, to allow as many opportunities as possible for over a two to three month period. No hurry, think about it and I'll let you know if the opportunities arise.
Send me your email address (jd.fish@verizon.net)if you want to be added to a list of interested participants.  I'll keep everyone informed via email or real mail if you ask.
Enjoy the holidays. John Fisher, Co-Chair Education Committee
Upcoming Excursion to the Pasadena Museum of California Art
There is an upcoming excursion planned for Sunday, January 23rd, to the Pasadena Museum of California Art to view "Scenic View Ahead" show.
Read the write up in Westways Magazine (AAASo Ca Publication) pg. 52-54. The show features watercolors done by prominent California watercolorists who were hired to paint the covers for Westways from  1927 to 1970. Westways was one of the few magazines to use original artist work for the cover.
We will leave Redlands at 9:00 am.  We will eat lunch in old town Pasadena and view the exhibit from noon – 3:00 pm. Your Cost: lunch, museum ticket $7 (auto club members $2 off), donation for gas.  I will take sign ups by:
email: wisdombites.callig@gmail.com (Please include RAA in title)
or by phone: (909) 867-9152
Either way you contact me, please give me your name, telephone/email. I can take four riders. If we have more people we need one more volunteer driver.
Thanks all…Margaret Spiess

Hayden Open Studio
Patty Hayden is opening her Studio to the Public on Saturday, December 11 and Sunday December 12.  Items of sale will be priced lower than usual in accordance with the poor economy.  Come visit and get some "Good Deals"  at 1304 Farview Ln. Redlands (off of Ford Ave.)
Edwards Art Show and Sale
Janet and Fred Edwards invite you to their Fall Art Show and Sale in their home at 1314 Del Haven Court in Redlands on
November 12  Friday evening, 6:00 p.m. – 9:00 p.m.
November 13  Saturday 10:00 a.m. – 5:00 p.m.
November 14  Sunday  1:00 p.m. –  5:00 p.m.
and also a Holiday Show
December 11 – 10:00 a.m. -4:00 p.m.
December 12 – 1:00 -4:00 p.m.
All are welcome.   Bring a friend. Any questions, please call (909) 793-7169
Thanks – Janet Edwards