07 Nov

RAA News: November 2011
Submitting to the Newsletter is now even easier!
There is now a form on the website that allows you to submit an article for publication in the RAA newsletter! It can be found on a link underneath the members tab,  there is also a link in right hand column of the online newsletter, click here to see it now. You just type your information into the form and press submit – easy peasy! The form will also allow you to attach up to 3 pictures, hooray!
Special Christmas Tree Ornament Take-In
Friday, November 18
A special take-in FOR CHRISTMAS TREE ORNAMENTS ONLY, will be on Friday, November 18, during regular gallery hours (10-5). Members may bring in up to ten ornaments to hang on our tree, to sell during the holiday season – through the December show (no show fee). All items must be clearly marked with price and artist name. E-mail questions to Tia Shira at tech@redlandartassociation.org.
Holiday Show
December 2nd Take-in
Our holiday show take-ins always bring more pieces of art than we can tastefully display. This year we are trying something new – setting some personal limits on number of pieces: Wall pieces are limited to two pieces per person; table top works are limited to eight pieces per person. These limits are in effect for the December 2nd take-in ONLY. There is no change in the number of jewelry pieces that can be submitted, but items in jewelry cases may be rearranged by the hanging committee or the president if deemed appropriate. And as usual, when the gallery sells one of your pieces you may replace it. Questions can be directed to Gail Brownfield, President.
Gail Brownfield
Art-On-State-Street
Sign up to sell your art at RAA's semi-annual outdoor show, "ART-ON-STATE STREET". Like Market Night, we will have our tents, tables, racks and standards lined up State Street with easy shoppers walking down the middle of the street. Both fine arts and crafts will be offered out on the street and in the Gallery at 215 E. State Street. The event is one day only, Sunday November 20 between 9 am and 4 pm. An Exhibitor Information Sheet is available at the Gallery, $10 entry fee to RAA members, $28 for non-members; 20% commission on sales.
Photos from last years show by Sandy Davies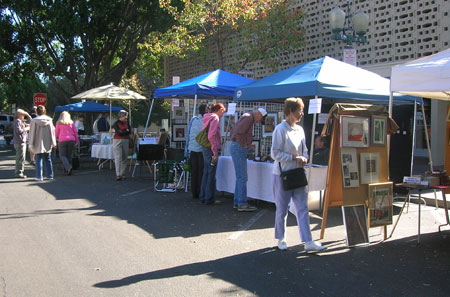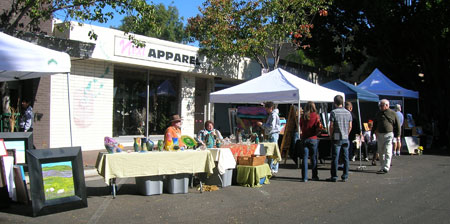 Reception Pictures
At last month's Open House introducing Randy Hill, RAA's new Executive Director, Neil Derry, 3rd District Supervisor, present a $10,000 grant award.
43rd Annual Multi-Media Mini Show
Put your creative cap on and get ready for the Mini Show. This is RAA's only juried show – where a noted artist choses the art for the exhibit from the art entries.
All artists are welcome to enter, no membership requirement. The exhibit has two parts:
It's multi-media- photography, digital, ceramics, jewelry, paintings, sculpture, wood, glass …EVERYTHING! However,
It must fit within a 14.5" box, including frame and base.
Also it's the only exhibit where you can enter pieces not for sale…so you can show off your special stuff! You jewelry artists…think Mardi Gras or something for the Czar. Fabric artists…think Aunti Mame or Hello Dolly! Glass artists… how about a queen's crown? Recycle-material artists – WOW…the sky's the limit! Entry date is late February.. just around the corner! Watch for more info.
 Sandy Davies
Artists for a Cause

Sunday, Nov. 13, 10 am-4 pm
"Artists for a Cause" is the inspiration of six local artists who joined their talents to create an annual fine art show and sale to benefit a chosen local charity. This year's recipient charity is Associates of the Redlands Bowl who raise funds to support the financial needs of the Redlands Community Music Association (RCMA) and to support and promote the Redlands Bowl Summer Music Festival.  All the artists donate 20% from all sales at the show directly to the Associates.
The 2011 show includes 19 local artists, including RAA members: Kathleen Bryan, Helen Carson, Liz Coviello, Adeola Davies-Aiyeloja, Janet Evans, Candy Glendening, Cindy Lantier, Adele Johnson, Sandra Blake Meichsner, Judith Sparhawk and Vlad Voytilla.  It will be held on Sunday, November 14, from 10 a.m. to 4 p.m. at the home of Adele Johnson, 560 Terracina, Redlands, CA. For more information, see their website:www.ArtistsforaCause.com
Submitted by Liz Coviello
Redlands Area Artists Studio Tour
Sunday, December 11, 10 am-5 pm
There will be a holiday studio tour on Sunday, December 11th from 10 am to 5 pm. 5 local artists, including RAA members Muriel Dolemieux, Aïda Schneider and Candy Glendening, will open their studios to share their process with interested art lovers. They will also have work available for purchase, just in time for holiday gift giving!
For more information see postcards in the gallery or this website.
I hope to see you there!
Aïda Schneider
Janet Edwards Book Signing and RAA Bookfair to Benefit Art Education
Redlands' renowned artist Janet Edwards will be signing her book, "Palms to Peaks, the Art of Janet Edwards" on Saturday, November 12, from 11:00 a.m. to 2:00 p.m. at Barnes and Noble Booksellers in Redlands. The book, published by ESRI, comprises more than 60 full-color pictures of her work, quotes by Janet, and written text by her husband, Fred Edwards, all in a beautiful cloth-bound book, with attractive dust jacket, and quote on her work by James Fallows, Atlantic correspondent, well known to many locally.
A BOOKFAIR at Redlands' BARNES AND NOBLE BOOKSELLERS will be held in conjunction with the book signing, which will include art activities for kids, story time with RAA teachers, and student art exhibits from RAA and Redlands schools.
Special Guest, Larissa Marantz, who is an illustrator for many books and TV shows, including Spongebob Squarepants, The Wild Thornberrys and Rugrats, will provide ongoing demonstration and hands-on how-to drawing workshop for kids! Ms. Marantz will show how to draw characters from her own kids' book, Dream-o-Licious.
A percentage of all purchases including food in the B&N store that day until 11/17, when presenting ID# 10469088 at check out, will benefit art education at local schools and the gallery through the RAA's Margaret Clark Art Education Endowment Fund. Flyers including a coupon with the ID# are available at the gallery or by clicking here.
Janet Edwards
Teen Classes
Teen Mania class, which meets Monday nights, joined a competition for Recycled Art in the Inland Empire. The entire class of teens entered their art in the show and received 1st place in the category they entered. Each student received a $15.00 cash card to spend at a local store. Here are photos of some of the students and their art. Students decided to do "shoes" as their topic, under the leadership of Ms. Gloria Steinweg.   She has been teaching the Teen Mania class for over 15 months at the Redlands Art Association. Due to its popularity, the program has expanded and now offers two teen classes. For more details, go to the Education page on the RAA website and click on Youth Classes for schedules and descriptions. So congrats TEENS!
Gloria Steinweg