11 Nov

RAA News November 2012
Members' Holiday Party
The Redlands Art Association is hosting it's First Annual Holiday Party on Saturday, December 1st at the gallery from 7:00-9:00 PM. Members are invited to drop in, view the new show, enjoy some holiday treats and visit with fellow artists. Bring your friends. It will be a perfect time to do some holiday gift shopping.
Stop by the gallery and sign up to attend and select a treat would would like to bring/share. For those interested, we will also be having an ornament exchange. Simply bring in an ornament, we'll place it in a bag and then those participating will select a bag with a surprise ornament in it.
There will be lots of food and lots of FUN. Please sign up early and plan to attend.
Happy Holidays!
Holiday Ornaments Take-in
A special take-in FOR CHRISTMAS TREE ORNAMENTS ONLY, will be on Friday, November 16, from 11 a.m. to 4 p.m. Members may bring in up to ten ornaments to hang on our tree, to sell during the holiday season – through the December show (no member fee). Make sure items are clearly marked with price and artist name.
Art on State Street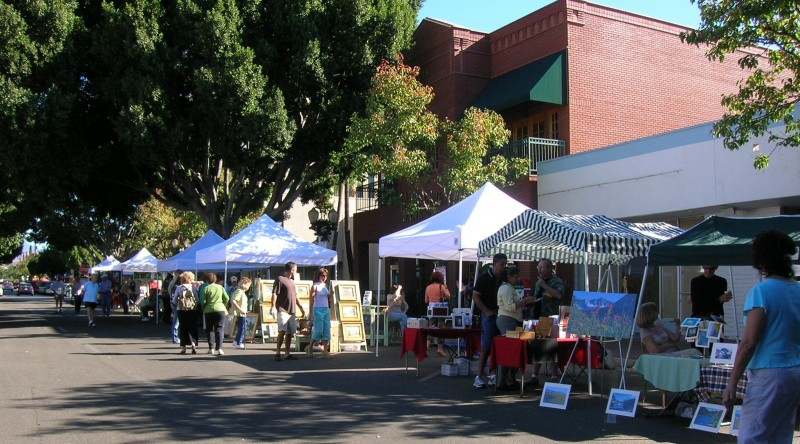 Stroll among the  ART-ON-STATE-STREET!
Redlands Art Association's semi-annual outdoor show will be happening Sunday, November 18, downtown on State Street in front of the RAA Gallery and Art Center.  The block of State Street between 6th and 7th will be closed to vehicular traffic with our artist's wares on display along the sidewalks.
"ART-ON-STATE-STREET" is aptly named for this event.   Like Market Night, the artists will have their tents, tables, racks and standards lined up State Street with easy pedestrian walking down the middle of the street.  Both fine arts and crafts will be offered out on the street and in the Gallery at 215 E. State Street.  The event is one day only, Sunday before Thanksgiving, November 18 between 9 am and 4 pm.  Rain Date is Nov. 25, the Sunday after Thanksgiving.
Open to all artists, with a discount on the fee to RAA members.  The artist's sign up sheet is at the Gallery now with an information sheet for details on the event.
For more information, call RAA Gallery & Art Center, 909-792-8435.
RAA Member is a "Cover Girl"
Well…her art is!
Textile artist Candy Glendening has been busy this year, writing articles for different "Quilting Arts" magazines, a total of 7 in 4 different publications.
She was extremely surprised and honored to see that her 3-d Holiday Row Houses grace the cover of this year's "Quilting Arts Gifts"!
For more information, see her blog post.
Candy Glendening, Website
Nominations for Programs and Workshops
Additional help is needed to coordinate adult workshops and Tuesday night programs. This involves hiring the presenters and making all related arrangements. We are actually looking for individuals to work on a committee that oversees all adult classes and workshops. In addition, we need help with setting up and taking down our tables and chairs on program nights. If you may be interested, need more information or wish to nominate someone for these positions please contact Gail Brownfield,chicago.toots@yahoo.com or 909-793-8889.
Where To Find That Special Gift?
We recommend visiting the Redlands Art Association. Located in downtown Redlands on State street, we offer a variety of unique, one of a kind gift ideas. We have beautiful paintings, incredible ceramics, amazing pieces of glasswork and stunning jewelry. You find something for everyone on your gift list. Consider a gift of an art class for your children, or maybe a a gift certificate for a program or workshop for that special someone. You may want to go all out and give them an art class and cooking class in Paris by signing up for our April trip to the City of Lights. Whatever your budget the Redlands Art Association has a gift to fit.
We encourage you to participate in Redlands Small Business Saturday, Saturday, November 24, 2012. The Redlands Art Association is happy to be a participant in this event. Visit downtown Redlands and enjoy our city.
Randy Hill, Executive Director
Redlands Area Artists' Holiday Studio Tour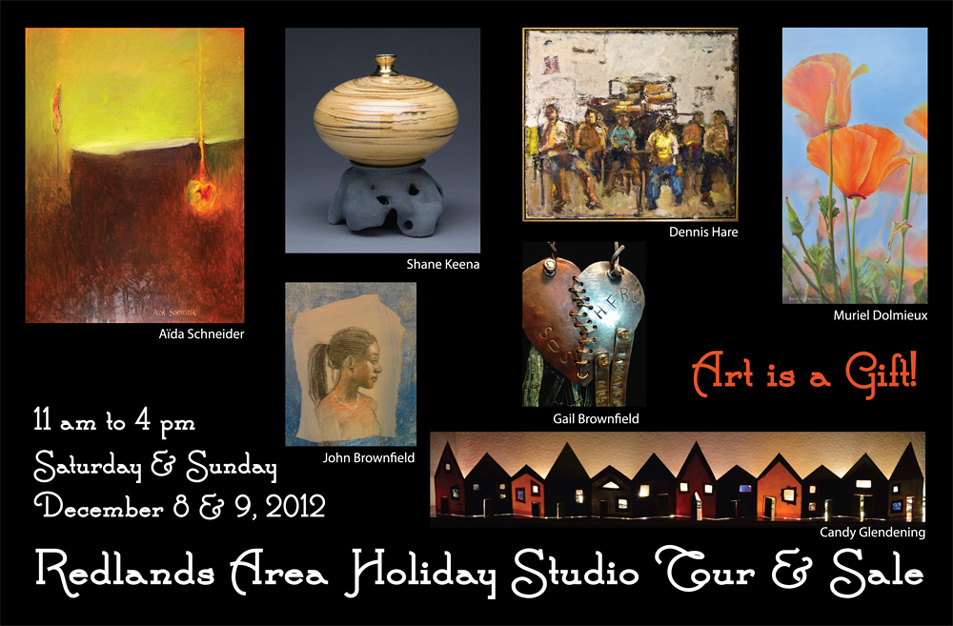 There will be a holiday studio tour on both Saturday and Sunday, December 8 and 9 from 11 am to 4 pm (please note, Shane Keena's studio will only be open on Sunday). 7 local artists, including RAA members Gail Brownfield, John Brownfield, Muriel Dolemieux, Aïda Schneider and Candy Glendening, will open their studios to share their process with interested art lovers. They will also have work available for purchase, just in time for holiday gift giving!
For more information see postcards in the gallery or this website.
I hope to see you there!
Aïda Schneider
AHHH SPRINGTIME IN PARIS….I want to go!
Now you can…The Redlands Art Association will be visiting the City Of Lights in April. Join us as we enjoy the sights and sounds of this beautiful and romantic city. Your trip will include airfare, hotels, many meals, entrance and private tours at several famous museums, an art class, cooking class, a private guided tour of Louis XIV, the Sun King's, Palace of Versailles and so much more. You'll also visit Monet's gardens, enjoy a boat ride on the Seine, dinner atop the Eiffel Tour and, of course, a visit to the famous Moulin Rouge. You won't want to miss this unique travel opportunity to visit one of the world's greatest cities.
For more information or to sign up visit the Redlands Art Association or contact Randy Hill at (951) 905-4400.
Randy Hill, Executive Director