07 Nov

RAA News November 2013
Art-on-State-Street
Sunday, Nov 24
Get 'cher calendar and make note to stop by the RAA Gallery on Sunday, November 24 for the annual Art-on-State-Street!  Over 50 member and community artists will be setting out their art for you.  The event is 9 am to 4 pm, on State Street in front of the RAA Gallery at 215 E. State St.  The street will be closed, like downtown Market Night,  to make way for pedestrian traffic.  Find your favorite artist… or make a new one!  Big and little treasures!  For more information, call the Gallery, 909-792-8435.
A tea party to start our 50th anniversary celebrations
Sunday 17th November from 3-5 pm at the gallery.
Past and present members: It would be great if you would like to bring finger food and sandwiches. Cake will be provided.
Would you be available to drive a non-driving member? If so, please call the gallery coordinator and let them know.
A sign up sheet will be in the gallery… either come in and enjoy the current show and sign up or ring the gallery and your name will be added to the list.
 Thanks, Liz Coviello
The Historian in the cupboard.
Thursday Morning Painters
Painters – looking for some studio time? The Thursday Morning Painters hold open studio – an unstructured painting session – on most Thursdays from 9:30-ish am to Noon-ish. Just for fun and conversation and a little sharing of techniques. $1 fee when you attend. Just show up!
Sandy Davies
Celebrating 50 years of the RAA
The RAA officially turns 50 next summer. Ben Rabe was the first president and thankfully there are still some founding and early members to regale us with their stories.
As part of the 50th celebrations I'd like to produce a book using ancedotes, interviews, newspaper cuttings, photos, etc.
If you are interested on being on a committee to undertake the research for the book please contact me either at bizzilizzi7@gmail.com or ring the RAA and leave a message and I'll get back to you.
Thanks, Liz Coviello
The Historian in the cupboard
Christmas Tree Ornament Take In – November 15 – Same day as regular take in.
This year's take-in FOR CHRISTMAS TREE ORNAMENTS, will be on Friday, November 15, along with the regular gallery take-in.  Members may bring in up to ten ornaments to hang on our tree, to sell during the holiday season – through the December show (no member fee). Make sure items are clearly marked with PRICE and ARTIST NAME.
Redlands Area Artists' Holiday Studio Tour
There will be a holiday studio tour on both Saturday and Sunday, November 16 & 17 from 11 am to 4 pm. 7 local artists, including RAA members; Muriel Dolemieux, Adele Johnson, Aïda Schneider and Candy Glendening, will open their studios to share their process with interested art lovers. They will also have work available for purchase to get ready for holiday gift giving!
For more information see postcards in the gallery or this website.
I hope to see you there!
Aïda Schneider
Joint Show: Sotello & Walag
Two local artists whose collaboration goes back some 27 years will stage their first joint show next month, running through Nov. 1-30 at the First United Methodist Church in Redlands, with a reception on Nov. 17 from 2-4 pm. On exhibit will be paintings and ceramics by Ed Sotello (painter, sculptor, poet and ceramist) and color and black-and-white photographs by Steve Walag (photographer, writer and musician). The two artists' association dates from the 1980s and has included art-producing outings together, mutual critiques and support, trips to museums, and innumerable philosophical talks about art.
Ed is well know at the RAA, where he has taught watercolor painting for about 10 years and is a frequent exhibitor. Steve will be presenting a talk and workshop on photographic composition at the RAA, Nov. 19 and 23.
Approximately 10 framed pieces will be shown by each artist, along with an additional number of Ed's ceramics. All RAA members are invited to join in viewing the show, and enjoying refreshments with the artists. The church is in downtown Redlands at 1 Olive Street; for viewing times other than the reception, contact the church at (909) 793-2118.
Both artists are also long-time teachers. Ed retired from a 33-year career teaching art at Yucaipa High School. Besides his art classes at the RAA, he has also taught at Crafton Hills College, San Bernardino Valley College, UC Riverside Extension and Patton State Hospital.
Steve teaches photography at UCR Extension, Mt. San Jacinto Community College, and Riverside Community College. He is a former Redlands resident who now lives in Riverside.
WinterFaire & Studio Tour 6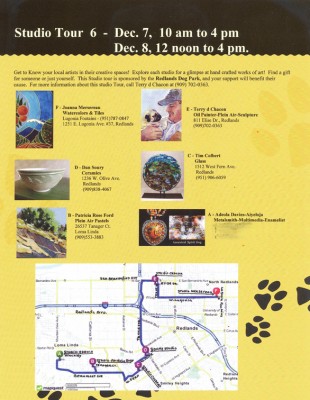 These dual events are on Saturday, Dec. 7 from 10 am to 4 pm and on Sunday, Dec. 8 from Noon to 4 pm. "WinterFaire" is a continuation of Mersereau's 29-year Riverside "WinterFaire" to her new location in Redlands.
Studio Tour 6 features local artists:
Adeola Davies-Aiyeloja (Metalsmith-Enamelist & Multimedia)
Patricia Rose Ford(Plein Air Pastel Landscapes)
Tim Colbert (Glass)
Dan Soury (Ceramics)
Terry d Chacon (Oil Painter-Plein Air & Sculpture)
Joanna Mersereau (Watercolors & Tiles)
all of whom will open their studios to the public.
All art may be purchased, just in time for the holidays and gift-giving. The Studio Tour is sponsored by the Redlands Dog Park, and your support of this event will also benefit their cause.
Joanna Mersereau
Coming Soon: The 2014 Winter/Spring Adult Ed Class Schedule
Watch for its arrival in the RAA Gallery and on the RAA website, www.redlands-art.org
Lori Powell, education chair
Donations needed
I represent two senior affordable housing communities here in Redland, Ca. These communities are operated by ABHOW, a non-profit organization dedicated to providing low cost housing for older adults. We are currently redecorating our communities and are in search of art work from local artists. Due to our limited resources, we lack the funds to purchase the desired art work and are looking to the Redlands community for help. We are accepting art work from all local artists willing to donate to our communities, so long as the art work is appropriate for the residents. For more information please contact Adrian Hernandez at 951-392-6260 or via email: adrianhernan2013@gmail.com.
Thank you,
Adrian Hernandez