06 Oct

RAA News October 2012
MCAEEF News
On Wednesday, October 3rd, the MCAEEF Committee met and reviewed requests for educational grants.  The following were approved:
 Franklin Elementary
Title of project:  Franklin Attacks Art
Judson and Brown
Title of project:  After School Art
 AAA (Arts, Athletics, Academics) Academy
Title of project;  Minimum Day Art Classes, K-5
 Ed Sotello
Springtime in Paris
There is never a more beautiful time to enjoy Paris than in the Springtime. The flowers are in bloom, the air is crisp cool and refreshing and the beauty of the City Of Lights is at its best. The Redlands Art Association is offering a once in a lifetime trip to Paris leaving on April 22, 2013 and returning on April 30th.
For more information or to register, call our office at (909) 792-8435 and ask for Randy. Also watch our next newsletter and the website for more details. I hope you will plan on joining us for a fabulous excursion to the incredible city of Paris!
Randy Hill, RAA Executive Director
Featured Artist Corner
Have you noticed our Featured Artist corner this year?  Our Artists have really enhanced the appearance of our Gallery.  If you would like to feature your art in 2013, please call Patty Hayden at 909-793-5178.  It is not difficult.  All you need is some inventory; about 10-12 pieces or less if they are large.
The remaining months will feature Jean Waller, Joanne Bergeson, Doug Bowman, and Joanna Mersereau, all long-members of RAA.  Come in often to enjoy their displays!!                                                                
Keep painting–Patty
Patty Hayden, Featured Artist Co-ordinator
Save the Date
On Saturday, December 1, 2012 from 7:00 PM until 9:00 PM The Redlands Art Association will open it's doors for our first annual members Holiday potluck. Plan on joining us to view the new show in the gallery, participate in an ornament exchange and kick off the holiday season. A sign up sheet will be available in the gallery in mid November.
So remember to mark your calendar and plan to join us for some great food, some delicious drink and lots of fun.
Randy Hill, RAA Executive Director
Tuesday Night Programs
Terrific programs are offered, almost monthly, by RAA. If you are an artist or a person with an interest in art, you won't want to miss these special programs. Interesting speakers and demonstrators will enhance your knowledge and appreciation of the arts. The programs are free to RAA members and only $3 to non-members.
This month, on Tuesday, October 23rd at 7 pm, local, professional artist, Dennis Hare will speak and inspire us. Next month, on Tuesday, November 13th, noted historian, Lyndy Zoeckler will speak on Rene Lalique's architectural designs in Los Angeles.
Should be very stimulating. See you there!
 Lori Powell, Adult Ed Chair
Día de los Muertos/Day of the Dead Celebration
9:30 to 11:30, Saturday morning, November 3rd, 2012
Redlands Community Center, 111 W. Lugonia Ave, Redlands 92374
Sponsored by Redlands Sister City Association
 Activities for children, (Children must be accompanied by an adult)
Dancers and musicians will be performing
Viewing of family altars and artwork
You are invited to:
 Display your family altar
Display your Día de los Muertos artwork
For more info, please call:
Carol (909) 793-9919 English
Anna (909) 792-4977 English or Spanish
Just a Reminder on Upcoming Classes
A new session of Oil Painting with Chick Curtis starts Sunday, October 28th and Watercolor with Ed Sotello, starts Thursday, November 1st. Check out the dates and details on the RAA website and register by calling (909) 792-8435 or visit the RAA Gallery, 215 E. State Street  Redlands. You'll be glad you did!
 Lori Powell, Adult Ed Chair
Market Night Art
Do you enjoy Market Night in Redlands on Thursday evenings? The Redlands Art Association would like to encourage you to bring the family and visit the unique food booths, sample the wonderful fruits and vegetables, enjoy the various crafts and create some ART!
If you bring your children with you to Market Night why not stop by the gallery located at 215 E. State Street. While you are browsing inside, your children can create art work with pencils and crayons out on our patio. Our professional art instructors will offer helpful hints and guidance for the children and answer questions regarding our children and adult classes, our workshops and programs. They may even give you an update on whats happening at the gallery.We invite you to come, see and enjoy your Redlands Art Association.
Randy Hill, RAA Executive Director
Grove School Looking for Qualified Jurors
The Grove School in Redlands is a Charter middle and high school. During the November Harvest Festival, works of art by 7th to 12th graders will be on display. The exhibition will include drawing, painting, photography and sculpture, drama and music and will be on display one day only, November 9, 2012. If you are interested in learning more about this opportunity to juror any of these categories, contact Amy Nottingham, Visual Arts Teacher.
I've Been Framed!
Or at least I need to be framed. The Redlands Art Association members sometimes need to have their work framed. They ask our volunteers for a referral or recommendation but alas we don't have a referral list to offer them. If you frame art work and would like to be added to our list of referrals please call Randy at the gallery
(909) 792-8435
 and give us your name, address, phone number and email address and we will add you to our list.
"Off the Shelf" by Joanna Mersereau, A.W.S.
This column will review books in the RAA library that I consider valuable art tools. In reading them I found my own imagination was stimulated. I hope it does the same for you.
"Drawing & Painting People" by John Raynes. 128 pp. 757 RAY
Using simple media–charcoal, acrylics, watercolor and colored pencil–Raynes leads you through simple steps to get a likeness. His use of a rectangle with divided areas takes the "luck" out of the process. Eyes are normally at half the vertical rectangle. Lines drawn through both eyes to center of mouth form a triangle. He describes each feature for angle of view and structure.
The sections on skin and hair color show how to bring life to the subject through warm and cool pigments. His text and illustrations of reflected light on dark skin are particularly valuable.
Capturing the expression can make or break the painting's success. Raynes illustrates children and adults, from a posed figure to photographs. He touches on how to draw hands, poses and fabrics.
For a simple, yet thorough study of painting people, this book gets a "thumbs up" from me.
Joanna Mersereau
Teen Mania Wins Prize in Recycled Art Show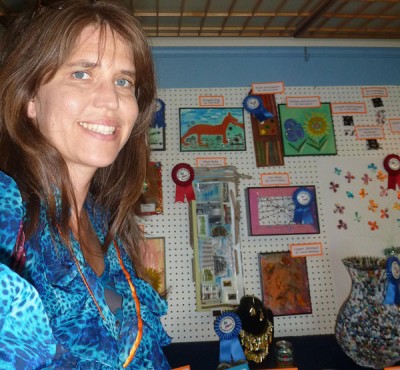 Here are some photos of the Recycled Art Show, where class Teen Mania one first prize as a class! Five students entered their art into the contest! Students worked on individual designs using stairs, and human figures. Student Jaqui B., also entered her own art, separately winning a 1st prize in that category. So congratulations to the class! Some of these students have been in the Monday night class since it began 3 years ago. Ms. Gloria Steinweg, a recognized and awarded artist (RAA member, and Teen class teacher) also won a prize in the show! Artist Liz Coviello, well known RAA member, was also highly recognized in that show!
Gloria Steinweg



IE's Best Architects Go Green
2012 Design Awards at the Riverside Art Museum
The American Institute of Architects (AIA), Inland California Chapter 2012 Design Award Submissions Exhibition
Exhibit: October 4 – January 15, 2012
Awards Presentation and Panel: October 4, 6:00 p.m. – 8:00 p.m.
For more information, visit www.riversideartmuseum.org
Riverside CA –The Riverside Art Museum (RAM) proudly announces an exhibition of The American Institute of Architects, Inland California Chapter (AIAIC) 2012 Design Award submissions. The exhibition will run from October 4 – January 15, 2012, and will be displayed in RAM's alcove hall, display cases, and mezzanine wall, with an Awards Presentation on October 4, from 6:00 p.m. – 8:00 p.m.
This prestigious professional organization was founded to offer education, government advocacy, and public outreach. As part of the AIA's effort to promote design excellence, member architects are invited to submit their best work to be judged by an esteemed jury.  This year's submissions will be shared with the public as part of a tribute to Julia Morgan, the first female architect licensed in California in 1904, best known for her work on Hearst Castle in San Simeon, California, and of course, the former Riverside YWCA building which now houses RAM.
The AIA is the voice of the architectural profession and the resource for its members in service to society. Since 1857, the AIA has represented the professional interests of America's architects. As AIA members, over 80,000 licensed architects, emerging professionals, and allied partners express their commitment to excellence in design and livability in our nation's buildings and communities.
The public is invited to the awards presentation and panel discussion on October 4th from 6:00 – 8:00 p.m. in conjunction with Riverside's Long Night of Arts and Innovation. The goal of the Long Night program is to showcase the city's accomplishments in the arts and sciences to residents, build pride in the city, and encourage youth to seek careers in science, technology, engineering, and mathematics.
For more information, please visit: www.riversideartmuseum.org or http://www.aiaic.org.
RAM relies on the generosity of members and donors to support its exhibitions, education programs, and special events. A 50-plus-year-old, private, non-profit cultural arts institution housed in a National Historic 1929 building designed by Hearst Castle architect Julia Morgan, the museum welcomes over 50,000 visitors a year. The museum is open Tuesday – Saturday, 10:00 a.m. – 4:00 p.m. and Sunday, 12:00 noon – 4:00 p.m. For information on exhibits, events, classes, memberships, or sponsorship opportunities, visit www.RiversideArtMuseum.org. Find us on Facebook (www.facebook.com/riversideartmuseum) and Twitter (RAMRiverside).
Ai M. Kelley
Riverside Art Museum Communications
Film and Video Game Concept Art at RAM
Painting in Pixels: An Exhibition of Concept Art
September 30 –- January 10, 2012
For more information, visit www.riversideartmuseum.org
Riverside CA – The Riverside Art Museum (RAM) is proud to present Painting in Pixels: An Exhibition of Concept Art, which explores the work that defines this genre and showcases exemplary pieces of character design, vehicle design, environment painting, matte painting, and storyboarding.
"It is really exciting to bring concept art to a museum not only to showcase such incredible talent, but also to share the process and purpose of concept art within the entertainment industry," says guest co-curator Nicole West.
Characters, vehicles, and environments from our favorite movies and video games are often developed years in advance of their public debuts. Early on in the pre-production of movies and video games, concept artists collaborate with directors and producers to create the visual design for intellectual properties. Concept artists are required not only to have the drawing and painting skills of a fine artist and the knowledge of an industrial designer, but they also need to have the vision and creativity to generate entirely new designs and concepts. In the past few decades, concept artists have migrated away from working in oil, acrylic, pencil, and pen and have moved to a more efficient digital medium.
"With one out of six jobs in Southern California now in the creative industries, we are pleased to share with our community a possible career path such as a concept artist," says Drew Oberjuerge, Executive Director.
The exhibition is co-curated by Nicole West and Thomas Brillante.
West is a Development Director II at Electronic Arts, who has worked in the arts and entertainment fields since graduating from the University of Southern California. West has worked at the Los Angeles County Museum of Art, the Academy of Interactive Arts and Science, Babel Media, and Brash Entertainment. She has organized several concept art exhibitions that have been viewed by thousands of people.
Brillante has over 13 years of experience working for The Art Institute of California as an Assistant Director of Admission. He has had several of his former students obtain success in various fields of media design. Outside of work he is a patron of the arts from figurative painting to digital concept art. In 2009 he organized the Gifted Artist charity art auction benefitting the Loma Linda Children's Hospital Foundation, a successful show that included illustrators and entertainment designers from all over world.
Sponsored by the Art Institute of California—Inland Empire, Painting in Pixels will run from September 30 – January 10th. West Studio and Design Studio Press provided additional support to make this possible.
For more information, please visit: www.riversideartmuseum.org.
Ai M. Kelley
Riverside Art Museum Communications