05 Oct

RAA News October 2013
A tea party to start our 50th anniversary celebrations
Sunday 17th November from 3-5 pm at the gallery.
It would be great if you would like to bring finger food and sandwiches. Cake will be provided.
A sign up sheet will be in the gallery… either come in and enjoy the current show and sign up or ring the gallery and your name will be added to the list.
 Thanks, Liz Coviello
The Historian in the cupboard.
Celebrating 50 years of the RAA
The RAA officially turns 50 next summer. Ben Rabe was the first president and thankfully there are still some founding and early members to regale us with their stories.
As part of the 50th celebrations I'd like to produce a book using ancedotes, interviews, newspaper cuttings, photos, etc.
If you are interested on being on a committee to undertake the research for the book please contact me either at bizzilizzi7@gmail.com or ring the RAA and leave a message and I'll get back to you.
Thanks, Liz Coviello
The Historian in the cupboard
Christmas Tree Ornament Take In – November 15 – Same day as regular take in.
This year's take-in FOR CHRISTMAS TREE ORNAMENTS, will be on Friday, November 15, along with the regular gallery take-in.  Members may bring in up to ten ornaments to hang on our tree, to sell during the holiday season – through the December show (no member fee). Make sure items are clearly marked with PRICE and ARTIST NAME.
Redlands Artists in National Show: "Ink and Clay 39"
Ink & Clay is an annual competition, established in 1971, of prints and drawings; ceramic ware and clay sculpture sponsored by the W. Keith and Janet Kellogg University Art Gallery of California State Polytechnic University, Pomona.
Cal Poly Pomona will present Ink & Clay 39, an annual competition of the best ceramic and print artists from the United States. The exhibition will take place at the W. Keith and Janet Kellogg University Art Gallery on the Cal Poly Pomona campus from Sept. 14 to Oct. 26, and a reception for the artists was held on Saturday, Sept. 21
The exhibition display 100 pieces — 50 clay and 50 ink —from nearly 400 submissions nationwide. A national jury of distinguished art faculty curated the exhibition, the first time the Ink & Clay has gathered a national group for the task of curating the exhibition. Comprising the jury for Ink & Clay 39: Stanton Hunter, associate professor of art at Chaffey College; Michael David, chair of fine arts at the Art Institute of Boston, Lesley University; and Lisa Folman, professor of fine arts at Lesley University.
It is a hard show to get into; as a matter of fact less than 30% of submissions were accepted. Also, for the first time artists from 50 United States were eligible to submit work, thus taking the show to a national level! Ink and Clay is a national exhibition open to all states including Alaska and Hawaii.
This year two RAA members were accepted into this prestigious exhibit:
Ann Bingham-Freeman
Material is integral to artists process. I have begun to address the material directly in my work. My recent work explores the visual aesthetics of removed linoleum which is collected in glass jars. I then create images based on the typically discarded material. This creates a self-perpetuating cycle in which the material being worked on becomes the subject matter for future prints. The endless nature of my work relies on the view of art as a constant process that never really stops. Time becomes a central aspect to the body of work and many of the individual pieces.
Adeola Davies-Aiyeloja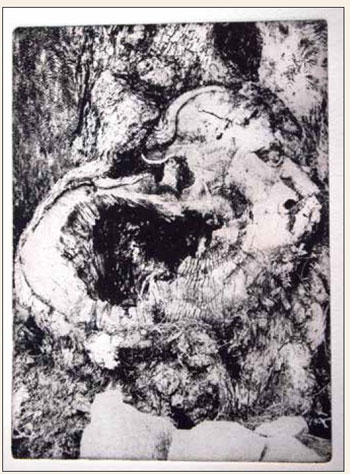 Multi-media artist Adeola Davies-Aiyeloja was born and raised in Lagos Nigeria and began painting at an early age. As self-taught artist, Adeola credited her consistency and endurance in her ability to create joy, love, and positive outlook in her paintings. "When you take a look at my work you instantly feel the joy and happiness the colors convey. Her work is in both private and public collections.
Adeola's work has been used in many TV and movie productions.
Adeola works in various mediums: a printmaker, a painter, an enamellist and metalsmith. To follow her creative work like her page at https://www.facebook.com/AdeolaStudio.
Location: W. Keith & Janet Kellogg University Art Gallery, 3801 W. Temple Ave, Pomona, Ca 91768 (Kellogg Gallery is Building 35A oncampus maps, located across from the University Library.)
Gallery Phone: (909) 869-4302
Email Contact: Karin M. Skiba , Gallery Interim Director  kmskiba@csupomona.edu
Admission: Free
Submitted by Adeola Davies-Aiyeloja
RAA Member is a "Cover Girl"
I'm excited to share that my art is on the cover of the magazine Quilting Arts Gifts 2013/14!
It's especially exciting because this is the second year in a row my art is featured on the cover!
To read more about this, head over to my blog post that talks all about it.
Candy Glendening
Redlands Area Artists' Holiday Studio Tour
There will be a holiday studio tour on both Saturday and Sunday, November 16 & 17 from 11 am to 4 pm. 7 local artists, including RAA members; Muriel Dolemieux, Adele Johnson, Aïda Schneider and Candy Glendening, will open their studios to share their process with interested art lovers. They will also have work available for purchase to get ready for holiday gift giving!
For more information see postcards in the gallery or this website.
I hope to see you there!
Aïda Schneider