11 Sep

RAA News: September 2011
MCAEEF
At the MCAEEF meeting (Margaret Clark Art Education Endowment Fund, Wednesday, Sept. 7, 2011, Jerry Meeker presided.
Gail Brownfield introduced RAA new executive director.
The first Classic movie starts Sept. 20 at the Krikorian Theatre (click this link for more info).
 A quick overview of scholarship grants over a period of three years was reported on and discussed.
Grants were approved by the committee for three applicants: Kimberly Elementary, Michah Chapel and Youth Hope.
Janet Edwards' book "Palms to Peaks" will be signed by the author at the Barnes and Noble Book Fair on Saturday,November 12. There will be art activies for the public on that date.
Ed Sotello 
Loss to the RAA Family
On Thursday, September 1, The Redlands Daily Facts announced that Barbara Morse, supporter of the RAA for many years, died on August 23rd. It stated that she was passionate in her support of the arts and of local artists. One of her many endeavors to support the RAA was to invite artists such as Milford Zornes to demonstrate his watercolor technique at a fund raising luncheon. Barbara and her husband Bob were active on the MCAEEF committee for many years until prevented by health concerns. Their gallery room in their lovely home housed art from many local artists and was treasured.
Barbara is survived by her family: son Robert A. Morse and his wife Mary Lou of Forest Falls: Her daughters, Nancy Morse and partner Casey Cunningham of Santa Fe N.M.; Cathy L. Pounds and her husband Alan; Joanne E. Morse and companion Gene Calderon, all of Redlands, and three grandchildren. If any of you have been close to the family, I am sure that they would appreciate your cards or contacts.
Janet Edwards
Ed Sotello wanted to add:
We were all saddened to hear of Barbara Morse passing. She was an endless supporter of RAA. art education and the arts. She was a great lady and will be missed.
Associated Artists of the Inland Empire 47th Open Juried Fall Show
FRIDAY, SEPTEMBER  16, 2011  10:00 AM – 10:00 PM
SATURDAY, SEPTEMBER  17, 2011 10:00 AM- 10:00 PM
SUNDAY, SEPTEMBER 18, 2011  11:00 AM – 4:00 PM
 Reception and Awards Ceremony
Friday Evening,  6:00 – 10:00
Demonstrations by guest artists throughout the weekend
 VICTORIA GARDENS  CULTURAL CENTER CELEBRATION  HALL
12505 CULTURAL CENTER DRIVE
RANCHO  CUCAMONGA
 For more info, please call 909-989-9904 OR 909-989-2621
Information can also be found on the web: www.associatedartistsinlandempire.org    www.rcpark.com
Co-sponsored by the City of Rancho Cucamonga and the Rancho Cucamonga Community  Foundation
"Body as Art" Photography Show
To all photographer members: the Cultural Arts Commission "Body as Art" photography show is coming up, entries due the day of the show: Saturday, October 22. There are brochures in the Gallery.
There is NO entry fee. There are 3 prizes; $300, $200, $100 for each of two categories;: Black & White and Color
The photos will be of "tattoos" that are tastefully done in all aspects. The point of this show is to look at the history of the art. It is not a promotion of tattooing in any way. The list of criteria are in the brochure. The show is open to all 18 year olds and over. It will be displayed and prizes award on Saturday, Oct 22, 2011 at Ed Hales Park on State Street…unless renovations there are not complete. Posting of new location will be made if there is a move. No submissions are required earlier than that day.
For further info, people may contact the Cultural Arts Commissioner, Tomi Olson, also an RAA member at 909-335-5405.
 Tomi Olson
Friday Night Art Walks
The downtown Redlands Art Walks are now being held the 3rd Friday of each month (9/16; 10/21; 11/18; 12/16). We would love for RAA artists to join us on those nights from 6-9 p.m. (or thereabouts) on State Street between 6th and 7th Streets. They just need to contact Deb Austin-Brecher so she can put them in the publicity and assign them spots.
If you need any more info, please contact me at this email: artburners@hotmail.com or  909.645.5424
Thanks, Deb Austin-Brecher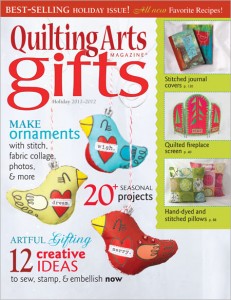 Candy Glendening Published in Magazine
Textile artist Candy Glendening has had another 2 articles published in a magazine.
These articles are "how to" articles for the 2011/12 Gifts Edition of Quilting Arts, the premier Art Quilting publication. They include a pattern for an iPad envelope, and instructions on how to make a fabric cover for any size journal or sketchbook
For more information, (including a giveaway she is sponsoring), please see this post on her blog.
Candy Glendening
Feasting on the Farm
"Feasting on the Farm" will be held on September 25. This is a "Party for the Necklace" fundraiser for the Redlands Conservancy's open space efforts. It will be a local farm dinner for 75 guests at our farm and neighboring Powell Farm in San Timoteo Canyon.
Last year, we held a silent auction featuring several local artist's offerings among other items. We would love to do the same this year, and thought we would ask RAA members (through the newsletter) if they would like to contribute.
For more information, please email Abby Harned at abbyh@roadrunner.com.
Thank you for your consideration, Abby Harned
Rich Lopez, Upcoming Program & Workshop Leader
Our great friend and long time Art supporter/Freelance contributor for the Press Enterprise Newspaper of Riverside has interviewed our next Program and Workshop Artist Rich Lopez.
I am happy and please to be able to share this nicely written article for your enjoyment. click here to read the article
Please come join us to meet Rich Lopez and myself, Antionette Hanson, at the Redlands Art Association, 215 E. State St. Redlands, CA onSeptember 27, 2011. 7 til 9 p.m. (No Charge)
This will be followed up with the offering of a Workshop, Saturday October 1, 9 a.m til 4p.m, $65 members and $70 for non members.
Antionette Hanson, Programs and Workshops
Teen Artists Participate
The Teens Advance in their study, with a fun and successful "Teen Art Camp" with special guest Patty Hayden, and art teacher Ms. Steinweg. Here photos of Teens in Art Camp and other Teen Mania class on Monday night evenings (classes to resume Aug. 29th). Go Teens!
Gloria Steinweg 
Art Camp Teachers Collaborate!
Summer Art Camp 2011 was full of Surprises and fun activities, including teachers such as "Mrs. M." (Sandra) and "Mrs. Steinweg" collaborating with skills. Ms. Steinweg came in to teach a lesson in Art Camp # 2 where students made Ceramic designs of Hippos with whimsical faces in a cartoon like manner (note photos of returning students Karly L, Andre K.). With Art Camp # 4, teacher Sandra M., came to give a demonstration on the colors for Tie Dying. Ms. Steinweg helped with the tie dying of colors outside while Sandra helped with a Collage lesson indoors.
This was an example of how teachers work together to help out at the R.A.A. These two teachers have worked together for at least 5 years! Yeah for Art Camp, and the Redlands Art Association with another wonderful Summer Art Camp!
Thanks to Mr. John Fisher for his leadership and also to Patty Hayden who set up the Art Camp program running it for many years!
Gloria Steinweg 
[showgalleryplus 86]