14 Sep

RAA News: September 2013
Let's celebrate the RAA's 50th Birthday.
In 2015 the RAA turns 50. Your historian has some questions for you:
How long have you been a member?
What do you recall of the early days?
Did you know Margaret Clark and some other the other founders?
Do you have photos, newspaper cuttings, newsletters or "stuff" that you'd like a new home for or would be prepared to share?
Would you be prepared to do a small interview about your memories?
If you would like to deposit or share information please contact me either through the RAA website or at bizzilizzi7@gmail.com
I'd love to hear from you.
Liz Coviello, "Historian in the Cupboard"
RAA Featured Artist Corner:
Creative clayworks by Marijke Terwisscha and her teapot workshop participants, will be on display in the Featured Artist Corner from September 21 – October 11.  Her Creative Clay Teapots workshop was held in July and was a great success according to her enthusiastic participants, who say they want to "do it again!"  All the works were made using paper clay, then bisque fired, glazed and finished in a Raku fire.
Submitted by Lori Powell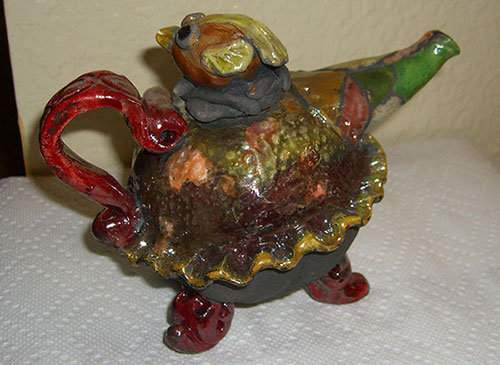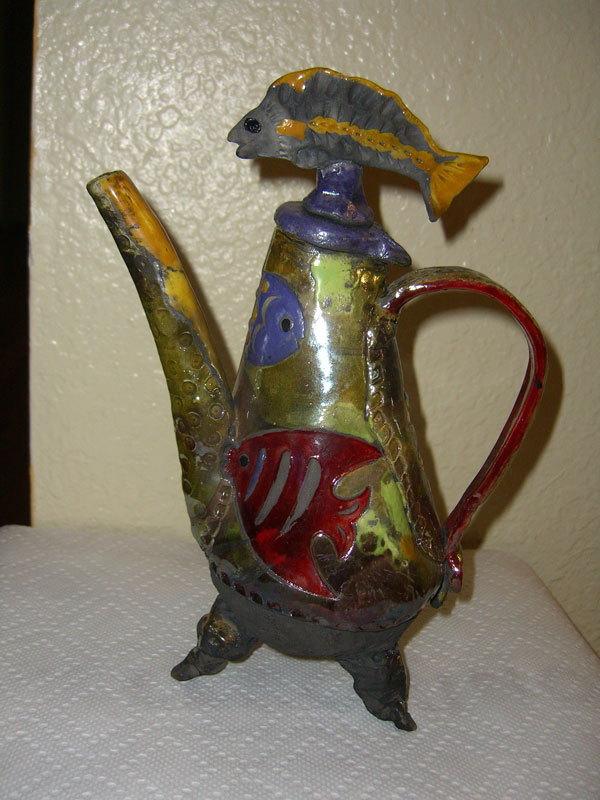 (The pictured teapots were made by Irina Malgin in Marijke's Creative Clay Teapot Class.)
NOT TO BE MISSED: UPCOMING PROGRAMS AND WORKSHOPS
September Program: CLAY, FIRE & SMOKE with Colby Cramer
Tuesday, September 24 @ 7 pm
Colby is a young man, who is very energetic and enthusiastic about making creative ceramic works.  Also, he is an extremely talented and exceptionally fine potter, who has won many awards and who continually explores and experiments with materials, glazes and firing techniques.  He has become quite the authority.  The RAA is enthusiastic about him coming and presenting a program on his art and the alternative methods of firing (saggar, pit, barrel, Raku, fuming, low temperature salt firing, etc.), he enjoys experimenting with and using.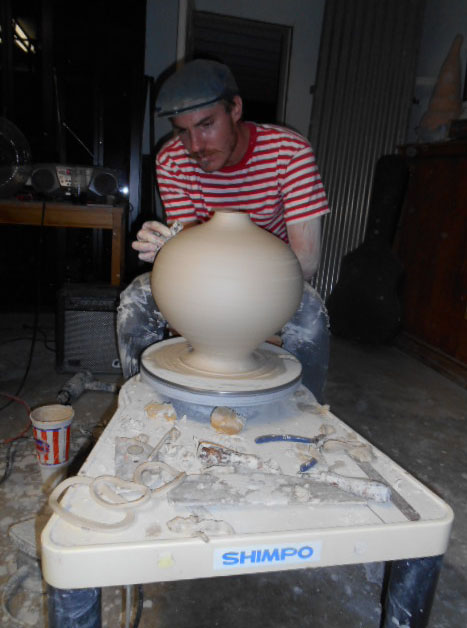 Workshop:  ALTERNATIVE METHODS OF FIRING with Colby Cramer
Saturdays, September 28, from 10 am – 1 pm & October 5 from 10 am – 4 pm
On September 28th, with instruction and guidance from Colby, participants will make hand built or wheel thrown pots that Colby will bisque fire.  On October 5th, again with instruction and guidance, participants will glaze, then fire the pots, using alternative methods of firing, such as saggar, barrel and pit.  It should be a great experience.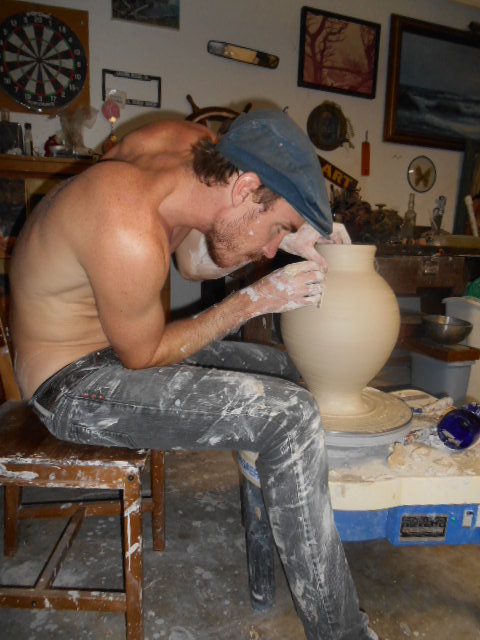 Note:  Satellite Location – Colby's Ceramic Studio @ Perris Hills Park, San Bernardino   (directions will be given when you sign up)
Workshop Fee:  $70 RAA Members / $75 Non-members with a $15 materials/firing fee, paid at workshop.
October Program:  THE PORTRAIT MADE SIMPLE with Richard Stergulz
Tuesday, October 22 @ 7 pm
Richard Stergulz is a very fine, figurative and plein air, oil painter, while being an outstanding teacher.  During this program, Richard will demonstrate and discuss how he achieves accurate drawings of faces and sets up the light and shadow color families of his paintings, in just 20 minutes.  He will also share some of his amazing work that is realistic in style, with a touch of Russian Impressionism.  This should be a captivating program.  Don't miss it!
Workshop:  THE PORTRAIT MADE SIMPLE with Richard Stergulz
 Saturday, October 26, from 10 am – 3 pm
In this workshop, Richard will show us how to compare all of the features in a face to get an accurate drawing.  Then he will show how to get the light and shadow families.  This will happen in just 20 minutes.  It takes a very talented artist and teacher to do this, and Richard Stergulz is just that.  Richard will demonstrate in oil, but you can use any medium you wish, for this workshop.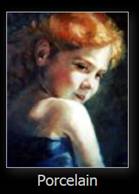 Workshop Fee:  $70 RAA Members / $75 Non-members
PASTEL CLASS REMINDER:
Coming in October is a new class, "Introduction to Soft Pastels," taught by "Patricia Rose" Ford.  She is a well=known and admired artist, who has won many awards for her sparkling, plein air, pastel paintings.
For the past couple of years, Pat (as she is known to many Redlanders), has spent much of her time traveling around the country, painting with plein air pastel groups.  Some of her accomplishments on these trips can be seen on her impressive website, www.patriciaroseford.com.
Currently, Pat has a show in Banning Art Gallery (along with 3 other artists), of Plein Air Paintings created on Catalina Island, "Capturing Catalina Island in Plein Air."  The show will be up until October 14, 2013.  Also, Southwest Art Magazine will print a brief statement about her pastels in the October issue, along with an add for an upcoming show that she's in, at the Purple Sage Galleria, in Albuquerque, N.M.  Pat is also a signature member of the Pastel Society of the West Coast, among other professional art organizations.
About herself and her work, Pat says, "As a landscape painter, I love the great outdoors, and particularly the scenes of the southwestern desert and coastline.
Currently, I am drawn to plein air pastels, in as I enjoy being in nature, looking at a beautiful scene, and translating the emotions of what I see onto the paper. My hope is that I am able to convey in my art, the feelings of joy and tranquility that I experience when painting."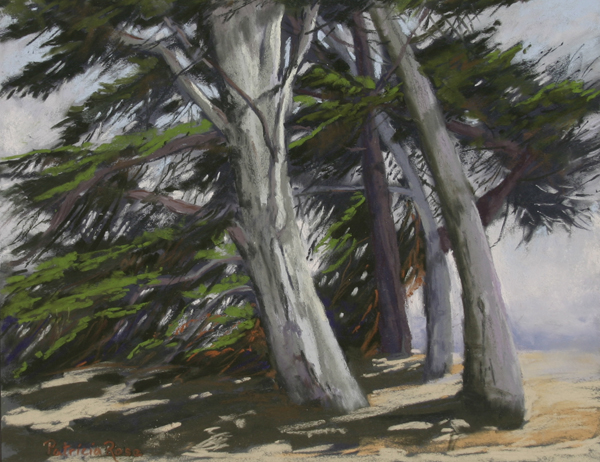 Pat's upcoming class will be an opportunity to learn and experience her joy of soft pastels.  She will share techniques of building a soft pastel painting.  This class will be on Tuesdays, October 15, 22, 29, November 5 and 12, from 10 am -12 noon.  A supply list will be available when you register for this class.
Lori Powell,  Adult Education Chair
FALL ADULT ART CLASSES
A new fall season is upon us (although it is a hard realization, with the hot weather we've experienced) and a new fall schedule of art classes is out.  Some old favorites are being offered, along with some interesting new ones.  All the classes have artist/teachers who are experienced and capable, and will offer information and motivation for your growth and enjoyment.
Check out the Fall Adult Art Schedule.  It was published in last month's RAA Newsletter, is on the RAA website and is in the RAA Gallery.  Stimulate, expand and nourish your creative spirit by taking a class!
Lori Powell,  Adult Education Chair