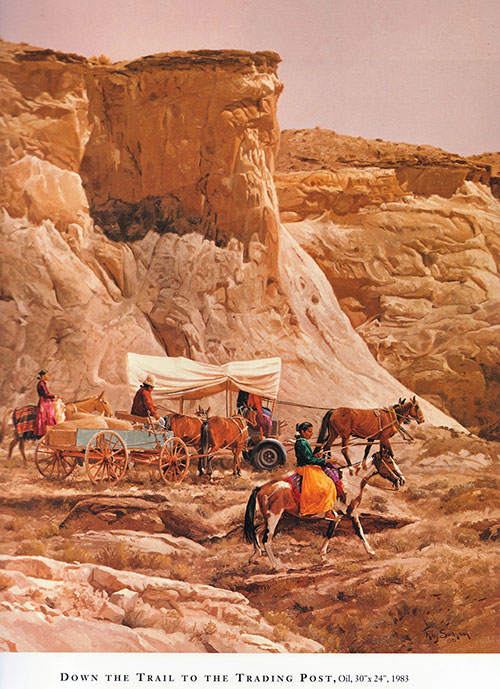 26 Nov

Ray Swanson Jan 3-30
Advance notice for special Ray Swanson Exhibition
This coming January we will be holding a special one-person exhibition in the west gallery for a former RAA member Ray Swanson who was a city engineer from 1964-1974.  Ray became a famous painter of the southwest and especially Native Americans with an emphasis on the children.
His paintings featured the Navajo, Suni, and Hopi.  See example below.  Although passing away in 2004, 27 of his paintings sold at auctions throughout the US in 2012 for nearly $435,000.
There will be a special reception on Sunday, January 4th at the RAA Gallery and Art Center from 2 to 4:30pm.  Swanson's widow, Beverly, will be giving a short talk.  Please mark your calendars, an RSVP will be requested.  Call 909-792-8435 to RSVP.
Special Program at ESRI, Tue, January 13, 2015, 5:30pm – 6:30pm.  "Indian Performance of Spanish Music in California's Missions: Little Known, Unexpected and Unforgettable." by Dr. James Sandos. For info and reservations: www.esri.com/events/redlands-form
Special Program at RAA Gallery and Art Center on Tue, January 27, 2015, 7pm – 8pm by Dr. Nathan Gonzalez at the Gallery.Dr. Gonzales will speak on "History vs. Memory: Redlands and the Creation/Recreation/Fabrication of a Cultural Institution. Dr. Nathan Gonzalez is Head Archivist and Curator of the Special Collections for the Smiley Library, and the Curator of the Lincoln Memorial Shrine.
Larry Harvill,  Chair, Board of Directors