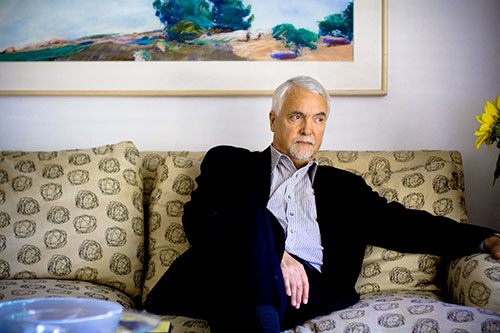 01 Sep

Merchant & Burgraff 10/13-11/2
"Sand, Sea, Surf" by Robert Merchant
Opening Reception for the two artists is on Sunday, October 21st 3-5 PM
Upon graduating from Pacific High school in San Bernardino and serving in the Army and getting married Robert was awarded a full scholarship at a prestigious school of art recommended by his High School art teacher.
Robert Merchant began work in the field of design after receiving a Bachelor of Fine Arts, Environmental Design from The Art Center College of Design, Pasadena, California.
He accepted his first design position in Zurich, Switzerland and subsequently gained valuable experience working for European Hotel and Restaurant operators while residing in Zurich, Stockholm, Sweden and Brussels, Belgium for seven years. He later returned to Los Angeles and established the firms Merchant/Associates and family name Merchant/Myers Inc.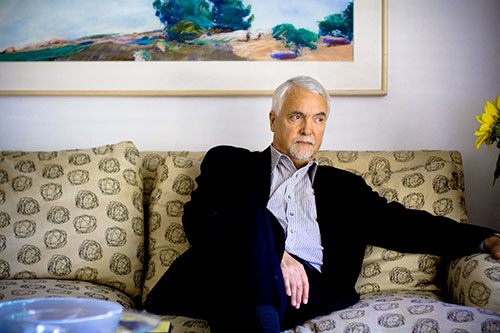 From his company's inception, immediate commissions included major projects in areas as diverse as across the US, Hawaii, Europe and the Middle East. By 1987, Mr. Merchant's influence extended to the Pacific Rim countries including Japan, China and Korea. His international experience has given him valuable insight into the practicalities of function and management in the hospitality market, as well as inspiration for imaginative tasteful and relevant art and design. During this long International career fine art was extremely important and much time was spent researching, studying and selecting the appropriate art for every environment in the hospitality market designed by myself and my company.
Robert Merchant's design and art philosophy relies on the integration of the design team with the owners, architects, engineers and contractors assigned to each project. He is cognizant of the needs of all team members to effectively serve the owner/operator and the public in providing a completely integrated art and design concept.
Personal art is accomplished with Acrylic, Water color and Pastel. I look for all inspirations in landscapes and my favorite waterscapes, hence my calling, "Sand, Sea, Surf".
I am extremely proud to be associated with the Redlands Art Association.
I paint sports, landscapes, portraits and still life. Life drawing is also important to me. I continue to improve my technique by taking additional workshops and networking with other artists. Currently I reside in Highland, CA with my wife, Maury.
Roger Burgraff
Roger Burgraff, Ph.D.
For me, art is all about creativity beyond what the eye can see. My creativity has expressed itself in various forms throughout the years. I have been involved in music, acting, writing and public speaking in addition to art. I took art lessons for a couple of years as a young teenager in Chicago. This gave me the basics of composition, sketching, form and shading.
I have been painting on and off all of my life during my career as a speech pathologist and professional speaker and trainer. Being semi-retired over the past few years has offered me more time for my art. While living in the UK for eight years, I took advantage of visiting the great galleries of Europe. To this day I am inspired by absorbing the creativity of other artists.
I work mainly in acrylics but won't hesitate to use modeling clay, Styrofoam, nails, glass and other bits to add to my projects. I tend to go a little wild with color. Like so many artists before me, I find myself drawn to using the female face and form as my favorite subjects.I don't want my work to blend in. I want it to stand out, shout and elicit emotional reactions in the viewer.
I've enjoyed being a member and on the board of the Redlands Art Association.