02 Apr

Sheila Hansberger: March 24 – April 13

Local watercolorist, Sheila Hansberger, will be the Featured Artist at Redlands Art Association March 25 through April 13, 2012. The artworks that Hansberger will display will run the gamut of subject matter, from flowers, to still lifes, to her popular scenes of Redlands. Through the years, many of those genres have been published in a variety of media including, local newspapers, Inland Empire Magazine, American Artist Magazine and in the book, The Best of Watercolor: Painting Composition.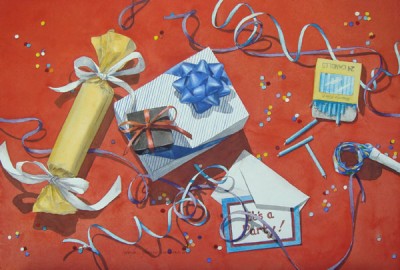 With over thirty years of experience creating watercolors, Sheila has earned Signature status in the National Watercolor Society, as well as Watercolor West, by having her work chosen multiple times for their exhibits. Both groups are made up of dedicated artists who specialize in the art of water media painting. Knowledgeable jurors from the art world are engaged by these organizations annually to select approximately 80-100 paintings to hang in an exhibit that represents the best in current work from artists around the globe. Hansberger's work has been accepted into not only each of those international societies, but has also been included in prestigious exhibits held in New York and Colorado for the American Watercolor Society and the Rocky Mountain National Watermedia Annual.
Besides having her work represented in private collections, her paintings have been acquired by various local public entities to be part of their permanent collections. Among them are: Redlands Community Hospital, Beaver Medical Clinic, the National Orange Show, Mt. San Jacinto College and the San Bernardino County Museum.