09 Apr

The Art of Stained Glass with Tom Medlicott
UPCOMING PROGRAM:  Tuesday, May 31 @ 7:00 PM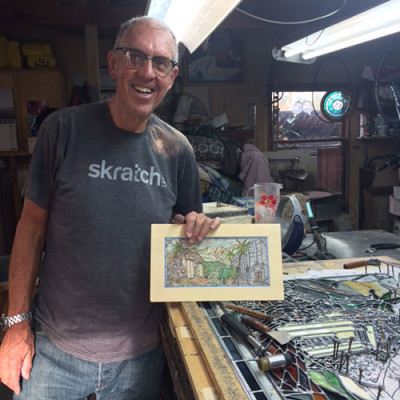 Redlands own, admired and accomplished stained glass artist, Tom Medlicott, will be the guest speaker at the Redlands Art Association Gallery.  Medlicott has created and is continuing to create a legacy of beautiful stained glass windows in Redlands, as well as in many other California cities.  The A.K. Smiley Public Library is the home of ten of his windows.  They add a sparkle to the library, with their glistening colors, as light shines through the many shapes and sizes of colored glass.  His work can also be found, among other places in Redlands, at the University of Redlands Chapel, the Seventh Day Adventist Church, Olive Market and in many Redlands homes.
Often Medlicott's windows tell stories or record local history.  In the Young Readers Room of Smiley Library, storybooks such as Charlotte's Web and Cinderella, are represented in glass.  Many record historical information, as in the most recently installed window at the library, honoring the 40- year career of Larry Burgess.  This stunning, 5 by 8 foot window, took over a year to complete and features important local landmarks that are meaningful to Burgess.  It is located at the end of a hall in the library's administrative office and can be perfectly viewed from the circulation desk.
In June, a 2 by 5 foot stained glass window commemorating the 100th anniversary of Kimberly Juniors, an organization for young women, will be installed in the Heritage Room of the Library.  The window design incorporates the Kimberly Crest Mansion and gardens, along with young women in their traditional sailor outfits.  It promises to be rich in jewel like colors and marvelous detail.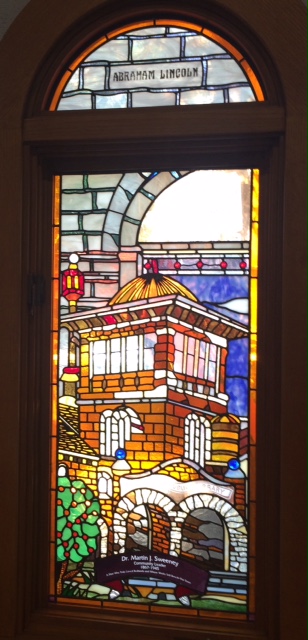 Being a fine artist and craftsman, Medlicott creates designs that are extraordinary drawings with incredible detail and then transposes them into colored glass.  Some of the intricacies are like facets on a gemstone.  A patient and meticulous master, Medlicott constructs tediously complicated works in glass, soldered together with lead.  Also, he enjoys working with copper and making mosaics.
While living in Colorado in the early 70"s, the artist learned the basic skills of his craft and picked up the rest along the way.  Doing his work extremely well, he was able to make a decent income. Eventually, he moved to Redlands in 1977 and established himself as an exceptional glass artist, while supporting his family of five.  Living in Redlands for almost 40 years, Medlicott says he's created about 4,000 glass windows in a wide range of sizes.  That is an amazing 100 pieces a year, with some having 5,000 individual pieces of colored glass.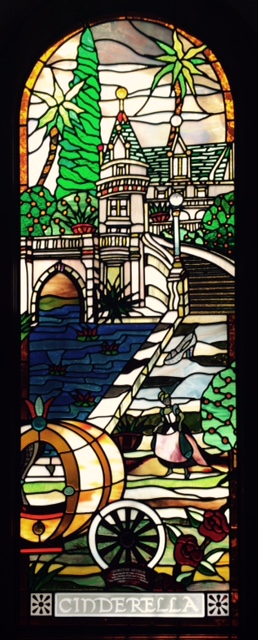 Medlicott is a dedicated artist and a perfectionist, who has a relaxed, likeable manner.  He is energetic and enthusiastic about his art and life.  Don't miss this opportunity to meet and hear this important Redlands artist, who has created public art that will be enjoyed for endless years.  He will share his art, stories of his artistic journey and his use of shimmering stained glass as his language for expressing so much.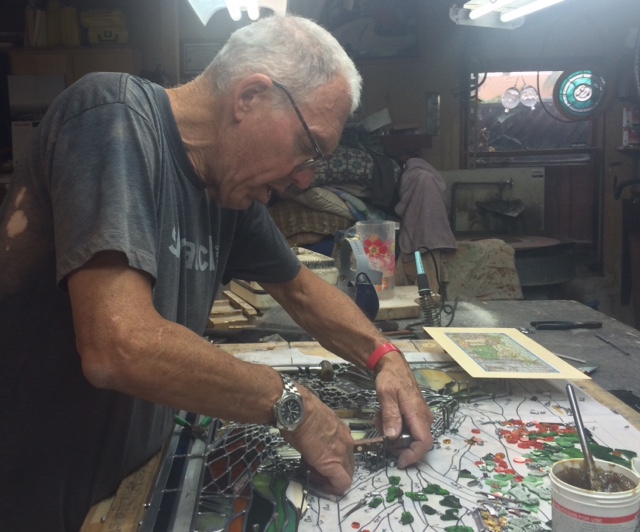 Submitted by Lori Powell