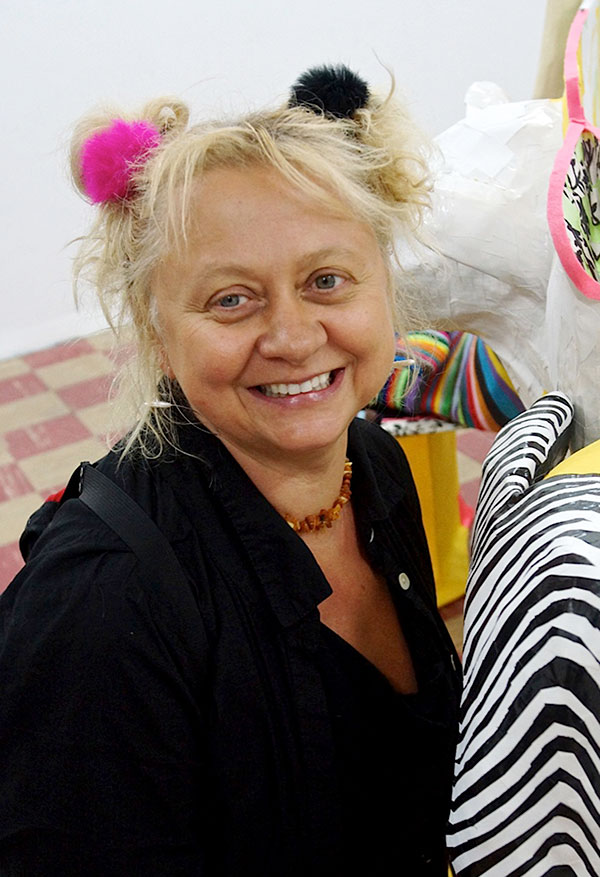 09 Mar

Workshop w/Snezana S. Petrovic
March Program: When Life Turns Upside Down: Art Emerges
TUESDAY, MARCH 31ST AT 7:00 PM
Snezana Saraswati Petrovic is an amazingly creative artist who has stretched art boundaries in many directions.  It is a privilege for RAA to have this nationally and internationally acclaimed artist as a program presenter.  This Redlands based artist, has lived here with her family for the past 24 years.  Her artistic journey started in Belgrade, Yugoslavia (now Serbia), and has continued throughout Europe, the USA and Japan.
She is an award winning 2D, 3D and 4D artist, an independent curator, gallery director, educator; as well as an award–winning set/costume designer.  She is a recipient of the UC Regents Grant and National Endowment for the Arts for the collaborative project, "Song and Dances of Imaginary Lands."  She involves local community on project developments.  For instance she repurposed and recycled designs for 240 costumes and 27 installations for the avant-garde opera by O-Lan Jones, produced by Overtone Industries.  She is the recipient of the "Ovation Award 2010" for this design in Large Theater category.
Collaborative environments are what Snezana is most passionate about.  She just returned from a residency in Tokyo, Japan.  There she worked as a founding member of the "Butterfly Effect Project" that consisted of installations and performance art collaboration between Japanese and US artists.  Her most recent work is a performance piece, "Improvisatore," performed at UC Irvine and the Silver Jubilee Celebration of Highways Performance Space in LA.
April Workshop: The Creative Spark w/Unorthodox Materials
SATURDAY, APRIL 4, FROM 9:30 AM – 3:30 PM (W/A LUNCH BREAK)
Installation artist Snezana Saraswati Petrovic, will demonstrate a wide variety of ways to use unorthodox sculpture materials.  Newspapers and old books are starting points for a creation of newspaper yarn to 3D designs, small scale sculpture, assemblages and installations.  Come learn, create and be inspired by this amazing lady!
NOTE:  ArtweekLA, reviewer Betty Ann Brown, claimed Petrovic's newspaper yarn sculpture to be the most interesting in an immense group show at Pico House in LA, during March of 2014.  She said her sculptures, lit from the front, casting complex shadows on the wall, were elegant and wonderfully straddled sculpture, textile and poetry.
Workshop Fee:  $70 members / $75 non-members   –  Supply list available at sign up.
Sign up by calling or visiting the RAA Gallery, 215 E. State Street, Redlands (909) 792-8435
Submitted by Lori Powell