14 Jan

Upcoming Programs and Workshops
Program: Tuesday, Feb. 23 Janet Edwards "Seeing My World Through Etchings"
Janet Edwards will be giving a presentation on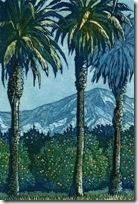 "Seeing My World Through Etchings" on Tuesday February 23rd, 2010, at the Redlands Art Association Gallery and Art Center, 215 E. State Street from 7:00 to 9:00 p.m.
Through showing a collection of projected images, printed material and examples, Janet plans to give a "show and tell" style presentation on the processes she uses in creating her etchings. She says the medium of etching allows much individual interpretation and style. Janet's designs often seem to be influenced by her love for the watercolor medium. Careful consideration is given to composition, color, and texture through added embossing as well as to the appeal of the subject matter.
There will be time to respond to questions that are often asked about the process, so come thinking of what YOU want to know. The lecture is free to RAA members and guests are welcome for a modest $3.00 fee. A matted etching will be offered as an opportunity drawing. Come and bring your friends.
Janet Edwards is a Redlands artist whose work reflects her love of the natural beauty of California, as well as her respect for sites of historical importance. While working primarily in the etching medium, she is also an accomplished watercolorist; a watercolor-like style is often reflected in her work. Many etchings include embossing as part of the design.
Janet earned a B.A. degree in Art Education from the University of Redlands. She taught public school art before raising a family. A past president of the Redlands Art Association, Janet is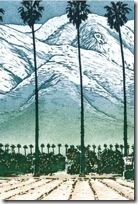 currently chair of MCAEEF, the RAA art endowment fund. Her work has been chosen by educational, cultural and civic organizations as gifts to honor dignitaries, professors, musicians, ambassadors and politicians.
Janet's work may be seen in her home studio in Redlands, at the RAA gallery and at Haven Home Essentials in Redlands, in galleries in Cambria and Mendocino, CA and in Yachats, OR. Editor's note: A sample of Janet's local landscapes and landmarks can be seen on the Redlands Wall in the Gallery.
If you would like more information on Janet's artwork, call her studio at: 909.793.7169
Workshop: Saturday February 27 Chick Curtis "Plein Air: Oils and Acrylics"
Chick Curtis considers his education to be the woods and creek in his backyard in Virginia when he was a kid, living in Costa Rica, visiting Thailand, reveling in Rio de Janeiro and Buenos Aires, traveling around the world, graduating from the University of Virginia, VA, serving in the U.S. Air Force, running a restaurant, graduating from Cal State San Bernardino (with an MA in educational counseling), and being married twice and humbly rearing two boys, each brighter than him.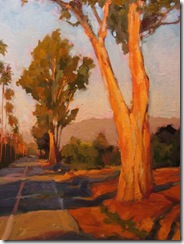 Chick is a mostly self-taught artist. His mother, Dorothy Fromm Curtis was an accomplished artist whose award winning oil and pastel portraits have been shown national and internationally. She tried to teach Chick, but, admittedly he wasn't her best student. He stopped drawing altogether for 30 years until he heard the "Calling" on his own. He has been painting and drawing since 1993.
Chick describes his art as follows, "Having entered the art-making world at mid-life, I have attempted a variety of media and styles at warp speed. Not so much because I want to make up for lost time, but because I find my desire to make art unquenchable. I have an intuitive child-like curiosity to explore, which compliments the maturity and skill I have developed as an adult. This gives me the freedom to explore many different styles and techniques. My wish is to interpret the world around me and all its many facets in a way that becomes part history, part beauty, part intrigue, and part joy. I am drawn with equal intensity to landscapes, cityscapes and people because of the spiritual quality of being in nature, the energy of a city, and to people because of the complexity of human nature."
In August 2008, Chick Curtis and friend, Mary Grinyer, presented their printmaking techniques, processes and creativity to the public at Riverside Art Museum's Printmaking Center. They also answered questions and shared artistic advice. Many visitors enjoyed lea  rning abut the printmaking process for the very first time. Artists of different mediums enjoyed learning about the selection of soy based inks and the monoprint method. The event kicked off the new Riverside PrintMakers group and print making open studio. ( Editor's note: Subsequent meetings of the group will be on the second Thursday of each month. )
Through the monotype print process, I am learning to incorporate the additive/subtractive aspects of print imagery with the richer, denser oil mediums on canvas and board. In some cases, I will do a painting within the print itself. This is perhaps a conscious attempt to resolve the two major forces that drive my creativity: painting what compels me on an immediate level and exploring the unpredictable nature of my subconscious thoughts and feelings on another level.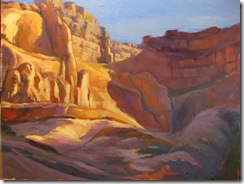 Chick has won awards for his art almost since he started back to it. He is active in showing his art in solo and group shows. Sign up for Chick's workshop at the Gallery downtown or call 909-792-8435 with your credit card info.
Price: $ 65 for RAA members/ $75 non-members?
Time: 9 am to 3PM  Bring lunch or buy from local shop.