12 Jan

Upcoming Special Events at the Gallery
Photography Show-in-a-Show
Open to the public (no membership required), photography artists are invited to show their art February 8-13.  No entry fee.   "Around the World" is the theme.  Bring in your photos on Saturday, Feb. 6 between 10 am – 5 pm.  Photos must be ready to hang, framed and with wire.  No sawtooth hangers.  Public reception will be Friday evening, Feb 12 , 5 to 8 pm.
Multi-Media Mini Show Reminder
The Mini Show is unique to the Redlands Art Association.  What makes it different from all other judged exhibits is:
ALL media is allowed for the show.  For example, artists submit photography, digital (computer) work, fiber art, drawings, glass, sculptures in wood- stone- and metal, as well as the traditional fine arts…hence the Multi Media part of the show, and
There is a size limitation of the art piece to 14 ½ " including base or frame (like it must fit in a 14 ½" cube) is the Mini part of the Show.
Any artist residing in California or a member of the Redlands Art Association may submit up to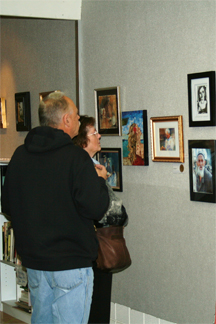 three recent pieces of work, of their original design.   Entry is in person, Sunday, March 7, 2010 10 am-4 pm, at the RAA Sales Gallery & Art Center. The show will be on display at the Gallery through April 9.
Winners of the competition will participate in over $ 2000 in cash and product awards.
Naturally, its success has spawned similar shows, however, the MMM Show is still the only one of this scale in Southern California. The prospectus for the show will be mailed to every artist who entered the show in the last 3 years, and will be at the Gallery soon… but start on your art Now!
Special Receptions
There are several events scheduled during the next year which include public receptions.  These receptions have been planned to increase awareness of RAA within our community.   This is what we have planned so far:
February 12, Photography Show Within a Show – Reception
March 12, MMM Evening Open House
April 17-18, Art Alive, gallery open to public to view Floral Installations
September ??, Black, White and Red – Regular Take-in Sept 24. Reception date to be determined.
You can plan on being part of these fun events.  Make sure that you have work that fits the Take-in themes.  We are hoping that the whole gallery will be black, white and red for the September take-in and that those who come to the reception will wear black, white or red.  Remember the EOS gallery receptions?  How fun were those?
Gail Brownfield, Vice-President