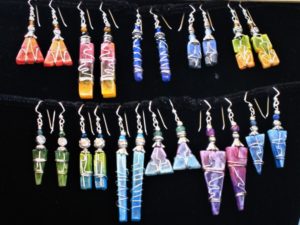 15 Apr

Valerie Davis: 4/24 – 5/15/21

Mandala artist Valerie Davis will be showing at Redlands Art Association Gallery

Mandala: originally meant to represent wholeness and a model for the organizational structure of life itself. It is assumed that the mandala is visually attractive enough to absorb the mind in such a way that annoying thoughts go away.

High Desert artist Valerie Davis will be showing her Goddess mandalas, selenite wands, and jewelry along with mixed media sculptures at the Redlands Art Association Gallery, 215 E. State Street, downtown, Redlands, CA from April 24th through May 15th.

Using hot glue and acrylic paint Ms. Davis creates glass like, geometric Goddess mandalas that incorporate organic forms and textures. She also makes mixed media sculptures called "planimerals" which combine plant, animal and mineral qualities.

Valerie uses the mineral selenite to make color infused wands and jewelry. Selenite is a soft, clear mineral used in energy healing. It is infused with color and combined with copper or silver wire and gemstones.

Valerie is a native Arizonan and 21 year resident of the Joshua Tree area. Her inspiration comes from the desert and natural forms of rocks and plants. She is a regular participant in the yearly Morongo Basin Cultural Arts Council Open Studio Art Tours, https//www.mbcac.org, and Art on Main St. in Old Town La Quinta, https://oldtownlaquinta.com.

There will be a socially distanced open house on April 24th from 11:00AM to 4:00PM. Masks required.