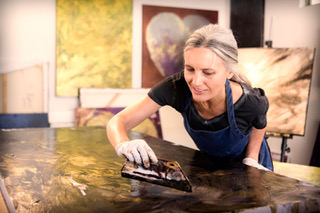 08 Jan

Julianna Poldi 1/21 – 2/11

"Emerging through Emergence," by Julianna Poldi is a series of hearts on canvas that will be exhibited at  Redlands Art Association, January 21 – February 11, 2017. The opening reception will be held Friday January 27 from  6 – 8 pm.

Artist Statement:
"The heart serves symbolically as it communicates a universal language, the source of connection from within, a knowing of truth, of love. That which is at the core of our being. This series is a personal reflection of the heart and its multifaceted language and a reminder of a love that never dies.

In the process of making this body of work, I was struck deeply by the loss of innocent lives from the 2015 attack. I considered the many hearts of innocent victims lost, all their connections to others and all the hearts that were broken. I approached the canvas deeply inspired to keep alive the truth of those lives, that they matter. In this way the heart for me became a portrait."
An award winning artist with over 25 years experience as a painter and workshop leader, she holds an MFA in Arts and Consciousness from John F. Kennedy University, Berkeley, CA. Julianna offers private and group workshops as well as personal coaching from her studio in Palm Springs, CA.