08 Apr

RAA News April 2012
Change in Take-in Date for April
Take-in for April's show will be THURSDAY APRIL 26. We will hang on Friday, and thus be ready to celebrate Vintage Redlands on Friday evening.
Pat Meeker
Summer Arts at Dos Lagos
The Shops at Dos Lagos in Corona is inviting artists from southern California to enter this juried visual arts show.  Download the application and information by clicking this link: Summer Arts at Dos Lagos.  Prizes include $1,000 for the Best of the Show, $500 for first place, $400 for second place, $300 for third place and 14 prizes of $200 for honorable mention.  Take in for the show is on May 11th and 12th from 11:00 AM to 4:00 PM.  One entry fee is $20 and each additional entry is $15.  Maximum number of entries is three.  A unique feature of this show is that for every dollar an artist spends on entry fees, they will receive a gift card from the Shops at Dos Lagos.
The show is a cooperative effort with the Corona Art Association, the Redlands Art Association, the Riverside Art Association and, of course, The Shops At Dos Lagos.  For more information, visit the website or call the Redlands Art Association at (909) 792-8435.  The show will be open to the public from June 1 through June 30.
Dreaming of Paris
Have you been dreaming of Paris, the City of Lights? Have your thoughts wandered to the most romantic city on earth? Have you been wondering what to do with all your vacation time. The Redlands Art Association has the answer to your questions! Join us for an experience of a lifetime.
RAA is hosting a nine day trip (October 15-23, 2012) to beautiful Paris, France. The excursion includes airfare, hotels, transfers, most meals, entrance fees to museums including private guided tours, a cooking and art class and a boat ride on the Seine. We've even included an ice cream cone at the famous Le Berthillon ice cream shop.
You'll visit The Louvre, the Musee d'Orsay, Notre Dame, the famous Moulin Rouge, Giverny the home of Claude Monet and the home of Louis XIV and Marie Antoinette…the Palace of Versailles. You'll enjoy dinner atop the Eiffel Tower, lunch overlooking Paris at the Musee d'Orsay and dinner at the famous Train Bleu. You'll have time to explore the city on your own as well. We'll even visit the Fragonard Perfume museum…the soaps and perfumes are incredible!
You may call our office to register or to get more information. Registration is open now and if you sign up before May 8th you will save $100. We invite you to attend an informational meeting at the RAA gallery on Monday, April 23 at 7:00 PM. Please call our gallery to reserve your seat at the meeting (909) 792-8435. We'll have refreshments and people who can answer your questions and give you more details about this exciting trip.
I hope you will plan on joining us for this magnificent Adventure In Art!
Randy Hill, RAA Executive Director
Art Lover Passes
The Redlands Art Association recently lost a dear friend and long time volunteer. Joan Jensen passed away on March 27 after a valiant battle with cancer. Joan was not an artist but enjoyed and supported the arts. Joan served on the Board of Directors, including a term as Chairman. She was also one of the founding members of the Margaret Clark Art Education Endowment committee and served a term as Chairman. In addition, she also served on the RAA's operating committee and was very active in a variety of the Association's fund raising activities. Ms. Jensen was also very active in her church ans other community organizations.
Joan was very caring and friendly…she will be missed.
Randy Hill, RAA Executive Director
Who Are You?
Often times customers, media representatives and other artists ask for a brief biography of one of our many talented artists. In order for us to give them current information about you we refer to your biography on file. But alas, many of our bios are outdated or missing.
Please consider updating your information and emailing or sending it to the gallery as soon as possible. If you need a little help…simply call the office at (909) 792-8435 and ask for Liz or Randy.
Liz Coviello & Randy Hill
THANKS!!!
Behind every show at the Redlands Art Association Gallery there is a group of hard working, talented volunteers. They are the members of the "Hanging Crew". They make sure every piece of art is displayed properly, every case is crystal clear and our featured artist's work is an eye catching display. They spend hours of time planning and hanging each show.
So, on behalf of our artists, our volunteers and our visitors…thanks for all you do!
Gail Brownfield & Randy Hill
Smiley Park Will Become a Gallery for RAA's Art in the Park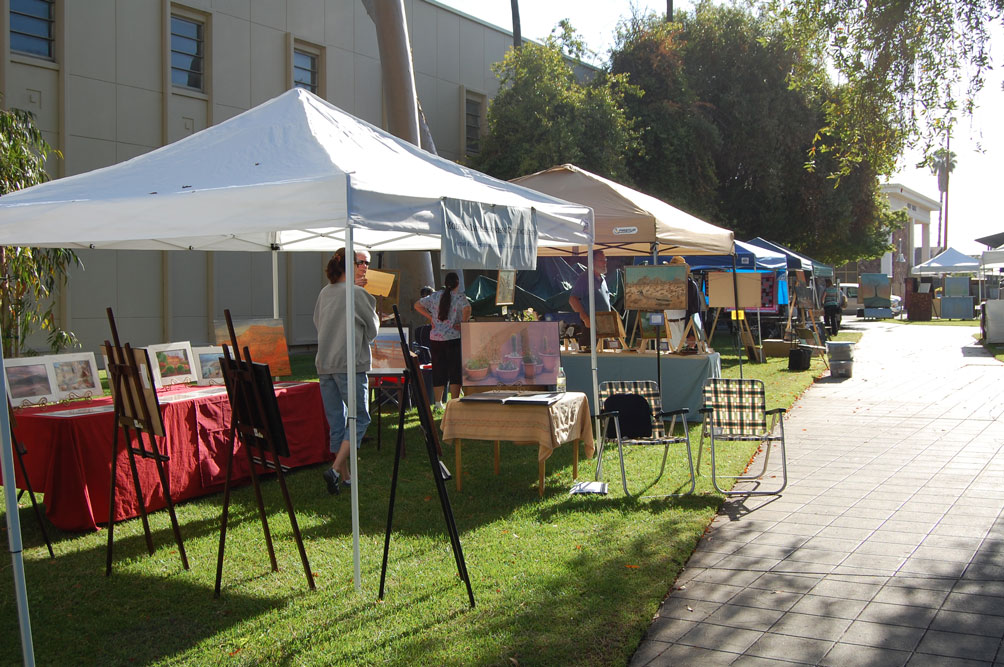 Artists will be hanging their masterpieces on pegboards, A-frames, and trellises. Glassware, pottery, wood crafts and jewelry will be set out to touch. Easy-Ups, canopies and umbrellas will add color and shade. It must be Art-in-the-Park time again!
Open Mother's Day weekend, May 12 & 13 from 9 am to 5 pm., this is Redlands Art Association's semi-annual outdoor sale. About 50 community artists and craftsmen will exhibit and sell their work in a variety of media at Smiley Park, which runs beside the Police Annex (old City Hall) on the corner of Vine and Orange Streets, downtown, Redlands. Sandy Davies, from the Redlands Art Association says "This is the best place to find original art from artists you can get to know. And don't overlook the small pieces of art. I was pleasantly surprised to find a small watercolor in a friend's motorhome!! She said it made her traveling home more like a real home."
A Refreshment booth will offer light snacks and a variety of beverages. Sponsored by the Beta Sigma Phi Sorority, their proceeds will fund community projects.
Artists are welcome to sign up and get a more detailed information sheet at the RAA Gallery and Art Center at 215 E. State Street, Monday-Saturday 10am-5pm or call 909-792-8435. Membership is not required. Original art only by the artist signing up.
The Redlands Art Association's Sales Gallery and Art Center at 215 E State St, downtown, displays member=s artwork year round. Open to the public Monday through Saturday, 10am to 5pm.
Sandy Davies
Edwards Spring Art Show & Sale
You and your friends are invited to come to the
Spring Art Show and Sale with
Janet and Fred Edwards
Friday May 4th from 7:30 -10:00 p.m.
Saturday May 5th from 10:00 a.m. to 5:00 p.m.
Sunday May 6th from 1:00 to 5:00 p.m.
At
1314 Del Haven Court, Redlands, 92374
(909) 793-7169
Friday there will be music, wine and cheese and other refreshments.
 The show will feature recent designs, many requested designs as well as several editions that will soon end.
Cards, and our book "Palms to Peaks" also will be available.
COME AND ENJOY THE FUN – BRING YOU FRIENDS
Janet Edwards
Red Dirt Art Festival
Saturday, April 28, 10 am – 5:00 pm (Rain Date May 5, 2012)
Red Dirt Art Festival is a bi-annual event that is now held at Smiley Park which is located on Cajon & Vine St. behind the Police station, (where the RAA has held Art in the Park for years). Since 2005, the Red Dirt Art Festival has been connecting local artists with the Redlands community through outdoor events. Held each spring and autumn, more than 30 artists continue to gather and share their unique artwork that spans across virtually all mediums.
See their site for more information
Candy Glendening
April 5th Riverside Arts Walk Night, John Klure in RCAA Artist Spotlight
Riverside Community Arts Association (RCAA) will have its biennial exhibit "Imagining the Future of Reading 2012" from March 22 to April 21, with reception coinciding with Riverside's next Arts Walk on Thursday, April 5, from 6:00 pm to to 9:00 pm. The "Reading" exhibit is in partnership with Riverside Public Library, and posters are made from five selected artworks, hung in the Library and placed on sale at RCAA. The Printmakers Network, sponsored by Riverside Art Museum (RAM) will be hosted by RCAA, hanging their prints in association with excerpts from selected poems and other literary expressions, in an exhibit called "Verse to Image." Current examples of John Klure's ceramic work, largely functional pieces, will be in the "Artist Spotlight," an exhibit similar in nature to "Featured Artist" at RAA. The Young Artists Gallery section of RCAA will have a display sponsored by the California Arts Project-Scholastic Art & Writing Exhibit, featuring young Riverside County artists from regional schools.
The RCAA Arts Center is at 3870 Lemon St., a couple of doors south of University Ave. Phone #: 951-682-6737. Beyond Arts Walk Nights (1st Thursday of every month, 6-9 pm), the hours are Tuesday through Saturday, ll:00 am to 2:00 pm.
John Klure
Spring Art Camp News
Spring Art Camp, March 2012, was about Jelly Fish, Sea Horses and much more. One student exclaimed: "I am becoming more of an artist, like my Dad now!", during a share time. This is why the R.A.A. supports the arts with children, enhancing their creativity with many opportunities. I found out near the end that student Lily (with purple flower), had had Mrs. Saab as her 1st grade teacher at McKinley which was real sweet. Mrs. Saab was one of my Master Teachers when I student taught! That was special to know.
 Gloria Steinweg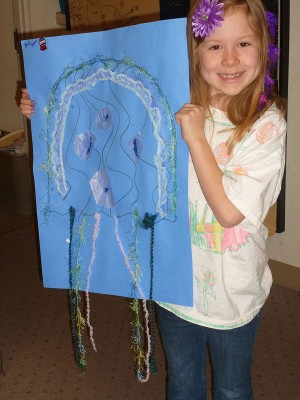 News on Home School Group
The Home School group is advancing, with over 3 groups of kids coming from different organizations such as: Sky Mountain, or other faith based groups, or private organizations. These classes take place Wednesday mornings. The students have been very bright, talented, of many ages; and this class has a higher involvement of parents (being Home School).
 Gloria Steinweg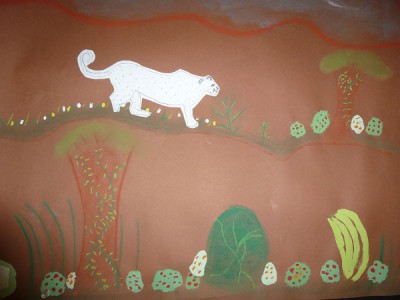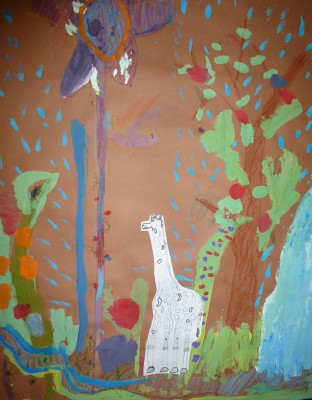 New Artist Photography Service
I am pleased to announce the opening of a new company "theIMAGEis" in Riverside, CA. It has two functions: Photographing artwork, jewelry, and crafts for artists to use as a submission to a juried show (ZAPP and JAS), advertising and promotion, documentation, and web sites. Another capability we supply is the ability to correct, emend, and enhance your own digital images for you, thus saving you time and money. You are welcome to come to the studio and watch as we perform magic with an image.
There is more information at the web site: www.theIMAGEis.com
David Alter