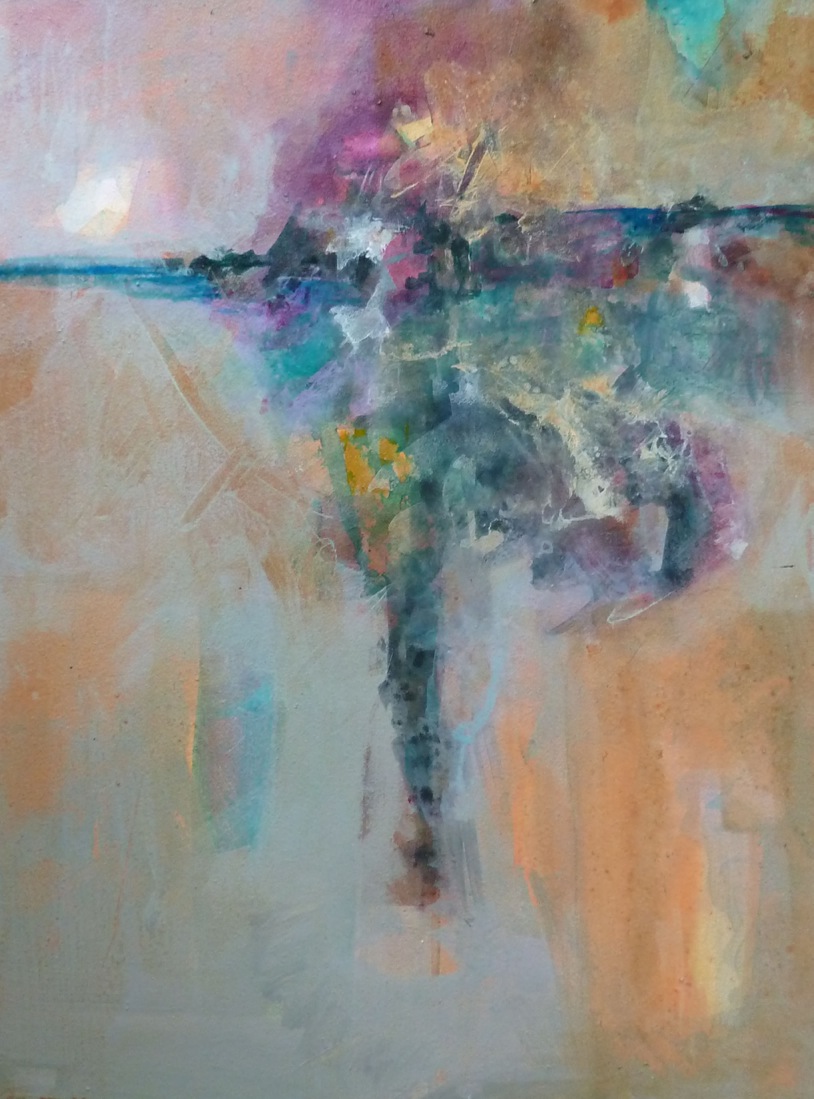 07 Aug

RAA News August 2015
Fall Artist's Way Class
As summer draws toward an end, it is time to think about fall, back to school, and new beginnings.  If you feel like it is time for something new, think about signing up for the new Artist's Way Workshop.  This popular class is based on the bestselling book, The Artist's Way, by Julia Cameron.  It is designed to unblock your creativity and to help in setting and reaching creative goals.  It is a fun and exciting class with a great group dynamic, and is led by photographer and successful workshop leader, Judith Sparhawk.
The class begins with a free no-obligation Orientation on Wednesday, September 9, 2015 at 7:00 p.m.  This is a chance to learn more about this program, ask questions, and find out if it is for you.  The workshop will then begin the following week on Wednesday, September 16, from 7:00 to 9:00 pm., and will continue weekly for 12 weeks.  Don't miss it.  Come into the gallery to sign up, or come to the orientation.
For more information, call Judith Sparhawk at (909) 793-1876 or email jsparhawk746@yahoo.com.
Submitted by Judith Sparhawk
Marketing Your Art with Candy Glendening, Textile Artist
Monday: August 31, 6:30 – 9 pm
Being a successful artist is so much more than perfecting your technique and focusing in on subject material that speaks to you; today's artist has to be their own advocate and marketer as well.
Opportunities abound with the tools that the internet brings to your marketing toolkit, but it can also be overwhelming: Facebook, Twitter, Blogging, Instagram, where does it end?
In this one evening class Candy will explain many of the marketing tools available to artists, pointing out the pros and cons of each one.
Bring items you are using for marketing (like business cards, photos of your booth, a laptop computer so we can look at your website, etc…) and Candy will point out what's working, what's missing, and help you design a strategy for YOU to be more comfortable marketing YOUR art!
Click here to read more information.
Submitted by Candy Glendening
Another Oil Painting Class is Coming Up!
MARTHA COWAN, Nationally renowned Oil painter is coming back! She will hold a series of 4 classes on Wednesdays, 10 a.m.- 1 p.m. beginning September 3rd. See EDUCATION label at top of Webpage for details.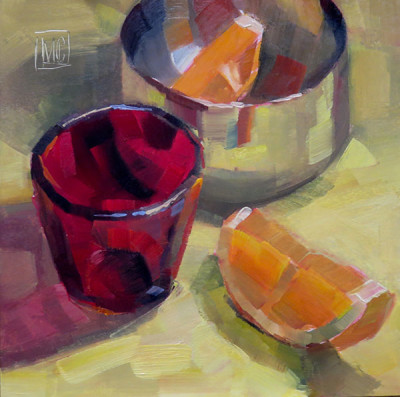 Her May class was lively and full. So don't wait! Call or drop into the Gallery to sign up.
Submitted by Tomi Olson
Coming in September: Art & Abstraction – Simply a "Blurred" Reality
By Angela Koenig
Angela Koenig, an artist who enjoys exploring a variety of styles and media, will be the guest at RAA on Tuesday, September 22 @ 7:00 PM.  For this program, she will focus on her interest in creating paintings that are expressive abstractions, using various water media.  She will emphasize her desire to express beyond what is visible.
A workshop will follow on Saturday, September 26 from 9AM – 4PM.  It will provide an opportunity to find inspiration utilizing a participants water based medium of choice, with guidance from Angela.  Collage may be incorporated into one's work.  This experience will provide a non-threatening environment, with an opportunity to be more explorative in one's art, while loosening you up and jump-starting your creative juices.
Put the dates on your calendar.  Come explore artistic abstractions!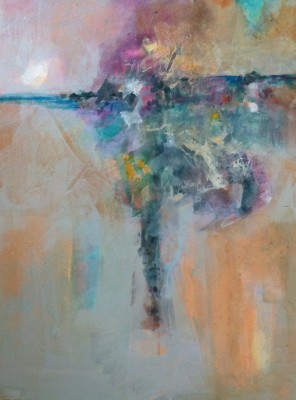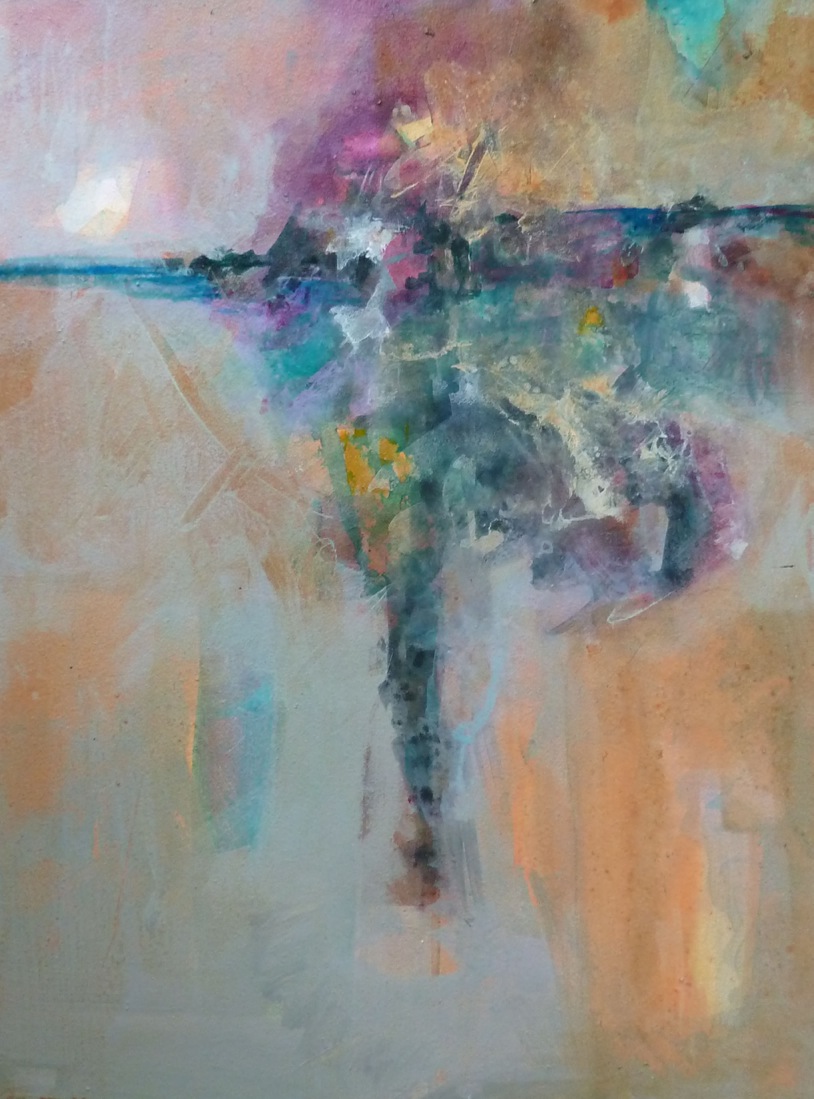 Workshop Fee:  $100 members / $130 non-members.    Supply list available at sign-up.
Submitted by Lori Powell
Photography Show: "Cuba: Turning a Corner"
Photographers Penny Schwartz and Caroline McAllister will offer a joint show of some 70 Cuba photos titled "Cuba: Turning a Corner" from Aug. 18 to Sept. 3 at the San Bernardino Valley College Art Gallery. The reception will be held from 5-7 p.m. Aug. 25.
The photographs will showcase street scenes, people, market locales, cars, architecture and the outdoors in the capital city of Havana as well as the French-influenced town of Cienfuegos, the colonial city of Trinidad and several areas of natural beauty. Schwartz was visiting the country in December, 2014, when the historic announcement of a thaw in relations was made simultaneously by President Obama and Raul Castro. McAllister was on hand with her camera a short time afterward.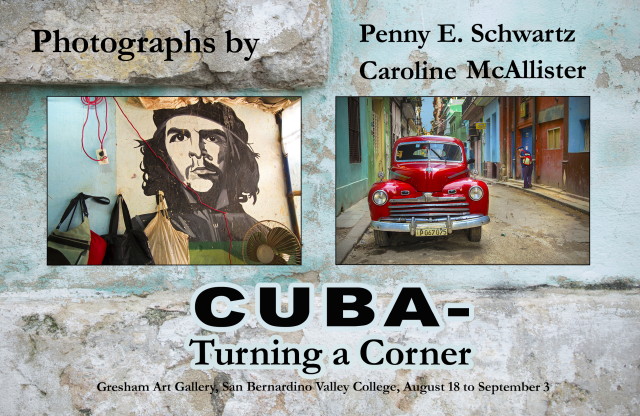 Schwartz is a freelance journalist and photographer who does work for The Press-Enterprise and has taught journalism and English as a Second Language in area colleges. McAllister is retired from teaching English, photography and newspaper production at Redlands East Valley High School. The pair have previously exhibited travel photographs together in the University of Redlands Alumni House gallery and at the Valley College gallery.
Gresham Art Gallery
701 S. Mount Vernon Ave.
San Bernardino, CA 92410
The Gresham Art Gallery is located on the Valley College campus next to the Administration building.  Turn right on Esperanza Street (There is a Pizza Hut on the corner) from Mount Vernon Avenue to get to the parking lots closest to the gallery.
Gallery hours are 10 a.m. to 3 p.m. Monday to Thursday. Parking for the Aug. 25 reception is available in Lots 3, 4 and 5. For information, call 909-384-4432
Submitted by Penny Schwartz
Children's Art Show.
The RAA Youth Education presented a Children's Art Show in July. The art included work from six weeks of Art Camps and our Spring Art Classes. The show ran from July 25-29th.
On Saturday, the 25th, there was a reception that welcomed over 100 people to view art work, create a minion craft and enjoy refreshments.
Enrollment for Youth Education Fall Classes has begun, with classes beginning  Aug. 24th.
Submitted by Suzanne Burke, Children's Education Co-ordinator
Mersereau Featured in "Uncle Jam" Magazine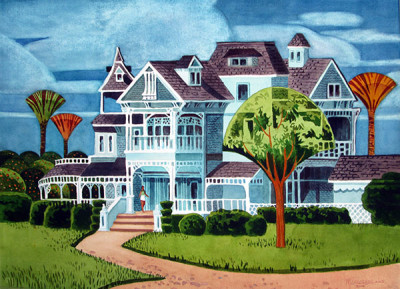 A large article Joanna Mersereau is printed in the summer issue of "Uncle Jam".  The article, "A conversation with Watercolorist Joanna Mersereau", includes 5 pages with 2 in full color. "Edwards Mansion" is on the cover.
"Uncle Jam", a quarterly art magazine, is FREE online, and can be found here: www.wingedtiger.com
There are hard copies of the magazine in the gallery if anyone would like to pick up a copy for themselves and read it.
Submitted by Joanna Mersereau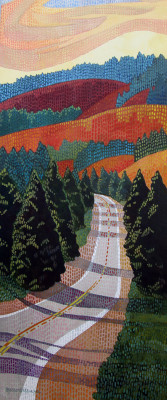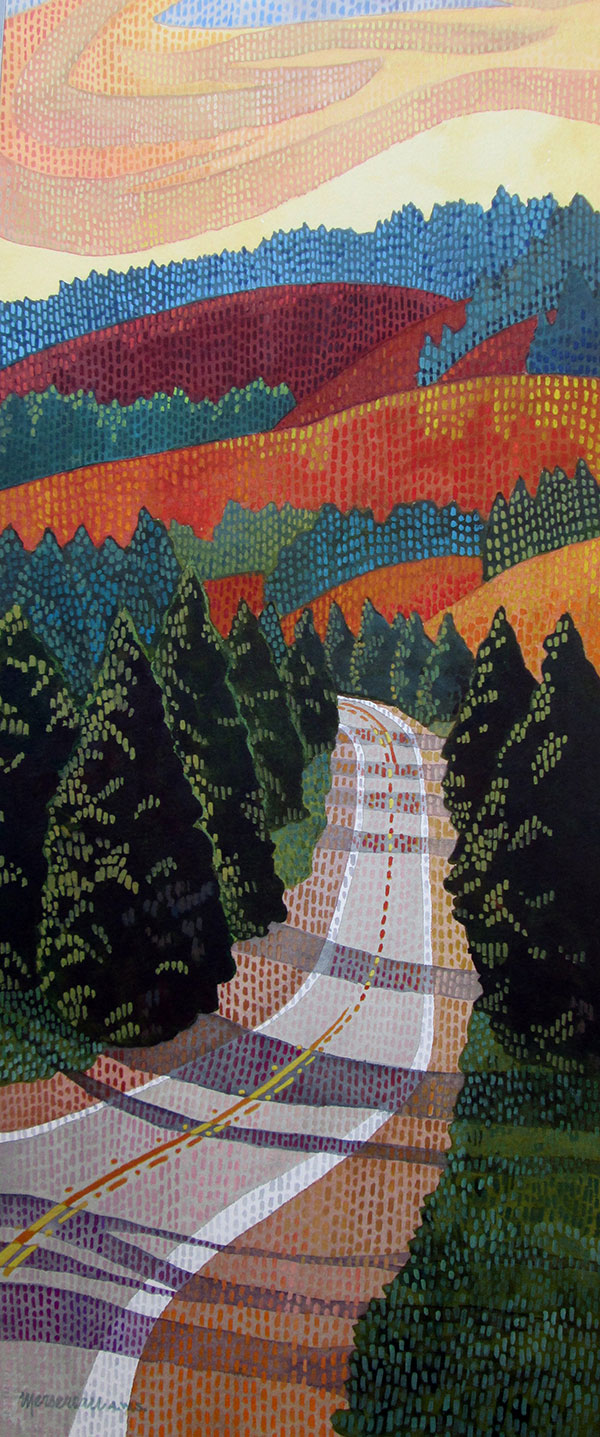 Sale on RAA Mugs & Tees
Summer Savings are here!
RAA 50th Anniversary mugs are now $8.99 each + tax or $34 + tax for a set of 4 mugs
RAA 50th Anniversary t-shirts sizes L & XL are now $10 + tax
RAA 50th Anniversary t-shirt size 2XL is $12
While stocks last.
Submitted by Liz Coviello, Gallery Coordinator
Christian Counselling Centre is looking for donated art or loaned art
The Christian Counselling Center is moving to new offices. Joyce Crawford one of the board members came in to asked if any of our members would be prepared to donate or loan a piece of wall art to their new offices. Please contact Joyce at (909) 793-3863 or ask for Cheryl McMillian in their current office next to the Security Bank on State Street.
Gallery Coordinators
Redlands Bowl Associates Art Show
An art show will be held by the Redlands Bowl Associates on Aug. 22, 2015 from 10 a.m. to 4 p.m.
Some of our member artists will be displaying their artwork for sale at this event, so, be sure to stop by and see the various arts and craft items for purchase.
Your purchases and your vending help support the Redlands Bowl.
To sign up, send a check for the booth rental ($40) to :
Associates of Redlands Bowl
12245 Wabash Ave. Redlands,  92373
For more info call or email: Eleaner Oden  951-201-6679  or ernburgess@yahoo.com.
Aug 22, 2015  From 10am-4pm.
Mission Gables House (and adjacent grass area)
Booth entry fee: $40
20% of sales go to Associate of Redlands Bowl.
Customers pay artists directly, 20% given at end of event.
Call for Entries
Submitted by Bronwyn Weis, Gallery Coordinator