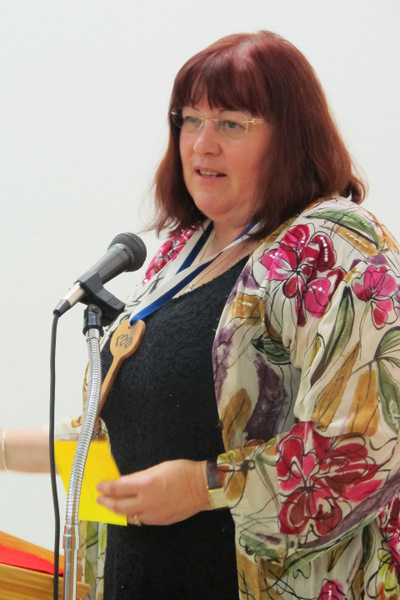 Wow, what a summer we are having…torrential rain with thunder and lightning for the first time I can remember in July, street closures around Redlands continue to challenge all of us; with the closure of State Street for the first week of the 3rd Summer camp requiring quick thinking and cheerful attitudes from all involved! I hope some of you got in to see the amazing children's art show. We had more than 100 visitors, of all ages, to the gallery on opening Saturday – so many thanks to those who came and supported the young people. And a huge thank you to Suzanne Burke, our Youth Education Coordinator, for organizing it, to the incredible teachers who should all be proud of themselves and their young students and the volunteers who helped with the set up and take down of the show.
In the middle of all this excitement I attended my first RAA Board of Directors meeting and found myself part of a challenging discussion on the continuing deficit in our budget, the need to cut it and to eventually become self-sufficient. As a business no matter how large or small carrying a long term deficit is not sustainable as I am sure you all know, from your own experience.
Three measures were decided upon which would halve the deficit this year:
Cut the paper newsletter. Thus the August newsletter is the last paper copy to be mailed out to members. It is currently costing the RAA $6000 a year, despite the reduction in size of the newsletter several years ago and the cheaper bulk mailing. There has been much discussion at Operating Committee Meetings about this, but many non-profit organizations have led the way to online newsletters, locally for example, Redlands Camera Club and The Citrus Belt Quilters. The newsletter will remain on the website and become a pdf file for people to print off. A few paper copies will be printed for the gallery to give out to members without computer access, for interested people who come into the gallery and new members. This will cost approximately $500 a year and as you can see is a considerable savings to the RAA.
Cut the operating hours of the gallery by 8 hours a week. After considerable discussion it was decided that the Gallery Coordinators should have some flexibility in determining how the 8 hours are cut. From 1st August 2015 the gallery opening hours will be 11am – 4.30pm. With only 16 weeks before Christmas, and the Holiday Season being the busiest time of year for sales in the gallery, the hours will be extended as needed. As we are all aware this has a huge impact on the running of the gallery and your docent hours become more important for keeping the gallery open for children's classes.
Raise the fees for Take-In. It will be $10 for categories – A, B, C, D, F, G. Category E for more than 20 cards, magnets etc., will be raised from $3 to $5. No one, and there are members who have been with the RAA for more than 25 years, can remember the last time it was increased. I appreciate this comes as a huge shock, but my son pointed out the value of $5 in 1991 is almost $10 today. This will become effective on 23rd October 2015 at the Take-In. There will be new Gallery Agreements to sign and new Take-In sheets available. The printable Take-In sheet and Gallery Agreement will be updated on the website.
I realize this will come as a shock to many of you, but the RAA is still here after 51 years, despite ups and downs. Reading through past newsletters, several Presidents expressed the wish to have paid Gallery Coordinators so necessary to achieve our goal of a professional gallery.
Now we need people with experience and enthusiasm to set up a couple of new committees, if you think you have the experience and can help please let us know. Larry Harvill is writing grants and seeking additional outside funding for the gallery. Do you have experience with this? Could you help him?
In addition, I think we should look at the fund raising we can do as an organization, for ourselves. If you would like to make up a small committee or just have suggestions, just email me at president@redlandsartassociation.org.
Together we can cut the deficit and become a stronger and better organization, benefitting ourselves, local artists and the community at large. Remember our Mission Statement…..
Liz Coviello, President
Editor's Note: For those of you who don't remember our Mission Statement, it is "to support and encourage the visual arts through education and example."